Main content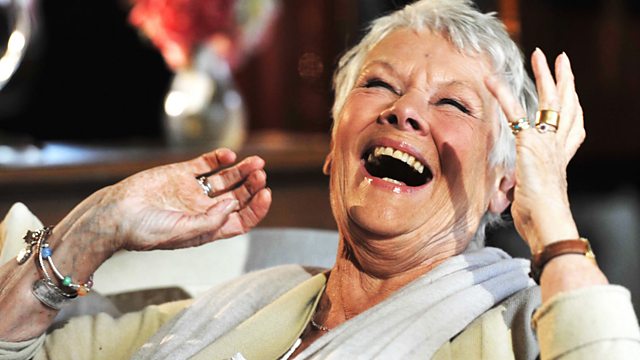 Dame Judi Dench discusses her illustrious career
Dame Judi Dench talks about her long career with Mark Lawson, we review Gillian Wearing's film Self Made, and three US crime writers discuss setting their books on American soil.
The actress Dame Judi Dench discusses her long career in theatre, television and film. She reveals why she would never perform a one-woman show, her strong dislike for Shakespeare's The Merchant of Venice and her love of on-stage practical jokes.
Three US crime writers, David Baldacci, CJ Box and Joseph Finder discuss the pros and cons of keeping up with new technology and setting their books on American soil.
In 2007, Turner Prize winning artist Gillian Wearing placed the following advert "Would you like to be in a film? You can play yourself or a fictional characters. Call Gillian." The result is her debut feature Self Made, in which seven people explore their own lives and sense of identity.
Producer Andrea Kidd.
Chapters
Dame Judi Dench

The actress Dame Judi Dench discusses her long career in theatre, television and film.

Duration: 13:59

Review of Self Made

A review of Turner Prize winning artist Gillian Wearing's debut feature film Self Made, in which seven people explore their own lives and sense of identity.

Duration: 04:41

US crime

Three US crime writers, David Baldacci, CJ Box and Joseph Finder discuss the pros and cons of keeping up with new technology and setting their books on American soil.

Duration: 09:07