Main content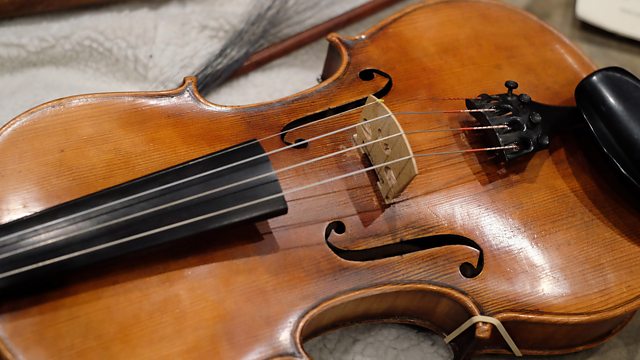 Exploring the impact that Estonian composer, Arvo Pärt's music for piano and violin has had on people's lives. From 2011.
Exploring the impact that Estonian composer Arvo Pärt's Spiegel im Spiegel has had on people's lives.
Written in 1978, just prior to his departure from Estonia, Arvo's piece for piano and violin is musically minimal, yet produces a serene tranquillity.
It's in F major in 6/4 time, with the piano playing rising crotchet triads and the violin playing slow scales, alternately rising and falling, of increasing length, which all end on the note A.
The score of the piece looks deceptively simple, but as violinist, Tasmin Little explains, it's one of the most difficult pieces to perform because the playing has to simply be perfect, or the mood is lost.
"Spiegel im Spiegel" in German literally can mean both "mirror in the mirror" as well as "mirrors in the mirror", referring to the infinity of images produced by parallel plane mirrors.
The music inspired visual artist Mary Husted to produce a set of collages called "Spiegel im Spiegel" which in a roundabout way, led to her being traced by her long lost son.
Contributors:
Doreen Macfarlane
Rhona Smith
Mary Husted
Tasmin Little
Vicky Smith
Series exploring famous pieces of music and their emotional appeal.
Producer: Rosie Boulton
First broadcast on BBC Radio 4 in August 2011.
Last on
Broadcasts
BBC Radio 4 Extra

&

BBC Radio 7
Why Sam Cooke's 'A Change Is Gonna Come' became a Civil Rights anthem