Main content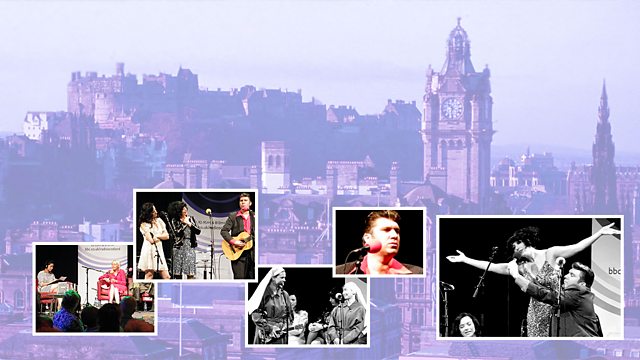 25/08/2011
How do you sell a serious play at the Fringe? Guy Masterson explains all, alongside Chris Larner. We also have improv from Baby Wants Candy and a capella from New York with Voices.
Voices - A unique a cappella experience that fuses vocal styles from around the world and leaves audiences both captivated and inspired. The exciting new theatre work captures the imagination and takes you on a non-stop energetic vocal journey. Immerse yourself with international techniques such as monkey-chanting and hip-hop's beat-boxing and revel in sounds that include Indian, European, African choirs and gospel. The result is non-traditional, intimate and explosive.
'Shylock' - Written and directed by Gareth Armstrong. Performed by Guy Masterson. Villain, victim, or is Shakespeare's infamous Jew someone more intriguing? This globally acclaimed play reveals all in a dazzling dissection of Shakespeare's Merchant of Venice. Fringe legend, Guy Masterson, gives a comedic, deeply moving performance, celebrating the richness of Shakespeare's language and conjuring a host of characters from Portia to Pontius Pilate and confounding the stereotypes. We journey through the conflicts and contradictions surrounding Shylock's turbulent history in a fascinating exploration of Shylock through the ages, bringing Shakespeare to life, history to the forefront and magic to the stage!
Baby Wants Candy - We hear about one of the best known, longest running and most celebrated improv shows in the world, BWC runs in NYC, Chicago and tours internationally. It has spawned careers of many top comic actors and writers in the U.S. Based on an audience suggestion, the BWC show is a roller coaster ride of spontaneously choreographed dance numbers, rhyming verses and witty jaw-dropping comedy.
An Instinct For Kindness - In his new 'award-winning' solo show, Chris Larner recounts the true story of taking his terminally-ill ex-wife to a specialist clinic in Switzerland to end her life. In this powerful, bitter-sweet and sometimes comic performance, Chris explores both the profound personal ramifications and the wider ethical issues that surround the contentious topic of assisted suiced. Directed by triple Fringe First winner Hannah Eidinow.