Main content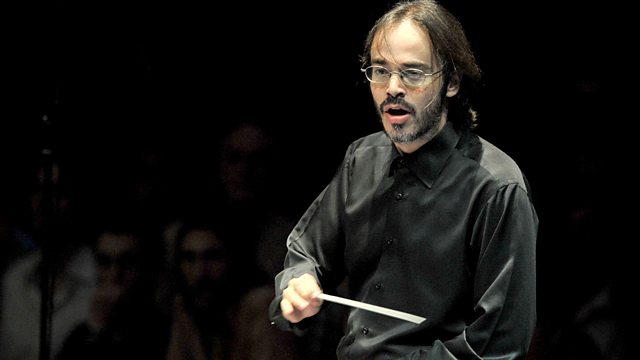 Prom 45 - Larcher, Bruckner
Ilan Volkov conducts the BBC SSO. Thomas Larcher: Concerto for violin, cello and orchestra (soloists: Viktoria Mullova, violin; Matthew Barley, cello). Bruckner: Symphony No 5.
BBC PROMS 2011
Introduced by Katie Derham from the Royal Albert Hall, London
Another chance to hear the BBC Scottish Symphony Orchestra and principal guest conductor Ilan Volkov who are joined by Proms featured artists, Viktoria Mullova and Matthew Barley, in the world premiere performance of Thomas Larcher's new double concerto. The second half of the concert is dedicated to Bruckner's vast architectural masterpiece - his fifth symphony.
The leading Austrian composer Thomas Larcher's first double concerto is predominantly solemn and sacred but also very rhythmical. It utilises a concertino group as well as the two soloists to bring an added dimension of colour. The cellist Matthew Barley has helped Larcher incorporate improvisation and free time in the piece, building on aspects of rhythm, but Larcher says there is still a grounding in Mozart, Bach and Beethoven.
Ilan Volkov is a renowned interpreter of Bruckner's Music. The 5th Symphony is one of his longest symphonies and, arguably, his most complex work. A huge challenge to perform, it is also a Symphony which embodies a unique atmosphere of spiritual exaltation in a dramatic struggle to overcome the pain and frustration of life.
Thomas Larcher: Concerto for Violin, Cello and Orchestra (BBC commission; world premiere)
Bruckner: Symphony No. 5 in B flat major (ed. Nowak)
Viktoria Mullova (violin)
Matthew Barley (cello)
Christof Dienz (electric zither)
Martin Brandlmayr (percussion)
Luka Juhart (accordian)
Thomas Larcher (prepared piano)
BBC Scottish Symphony Orchestra
Ilan Volkov (conductor).