Main content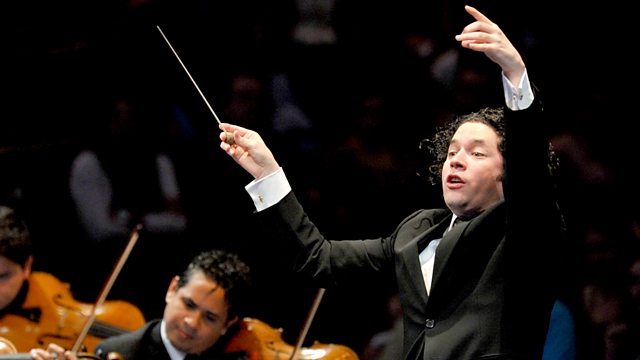 Prom 29 - Mahler: Resurrection Symphony
Gustavo Dudamel conducts the Simon Bolivar Symphony Orchestra in Mahler's epic Resurrection Symphony.
Proms Repeat: the Simon Bolivar Symphony Orchestra returns to the Royal Albert Hall to perform Mahler's epic 'Resurrection' Symphony.
Formed from pupils of Venezuela's El Sistema programme, an initiative that offers every child a free musical education, the players have been performing together since childhood, and have lit up concert halls around the world with their technical skill, passion and deep musicality - as their concert master violinist Alejandro Carreno says: "for us this isn't a job, not even a concert, for us music is all of life". Under the baton of fellow El Sistema alumnus, Gustavo Dudamel they team up with the young singers of the National Youth Choir of Great Britain and distinguished soloists to perform a colossus of the repertoire. Written for vast forces, Mahler's Second Symphony takes a journey from the graveside, asks the question 'is there life after death?' and ends with a triumphant promise of eternal life. It's a work Alejandro Carreno and all the orchestra love, "Mahler's music is so descriptive, the atmosphere it creates is like that of an opera. We hugely enjoy playing his music."
Presented by Donald Macleod