Main content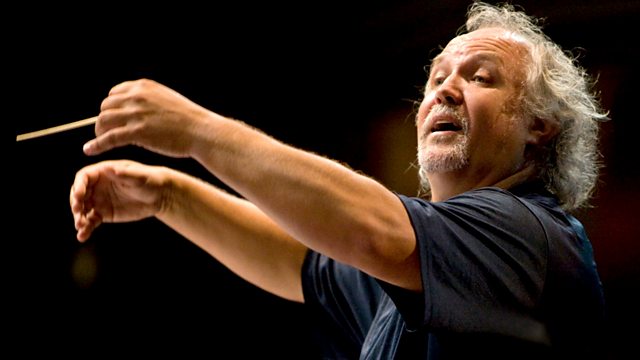 Prom 27 - Robin Holloway, Strauss, Brahms
Hillevi Martinpelto (soprano), BBC Scottish SO conducted by Donald Runnicles. Robin Holloway: Fifth Concerto for Orchestra. Strauss: Four Last Songs. Brahms: Symphony No 2 in D.
With Jonathan Swain
Proms Repeat: the BBC Scottish Symphony Orchestra performs the world premiere of Robin Holloway's fifth concerto. Renowned Strauss conductor Donald Runnicles is joined by international soprano Hillevi Martinpelto for the beautifully reflective Four Last Songs.
Robin Holloway's Fifth Concerto for Orchestra challenges him to write on a smaller scale than previously, and this BBC commission contains some of his most opaque counterpoint and most varied orchestral textures. He describes the piece as like Manhattan, "when Sprawl is impossible, you must build upwards instead". The premiere of Richard Strauss's Four Last Songs was given in the Royal Albert Hall in 1950, just after the composer's death. They were his last completed works, and are full of calmness and acceptance. Brahms then journeys away from contemplation to revel in triumph and joy by the end of his masterful Second Symphony.
Presented by Martin Handley