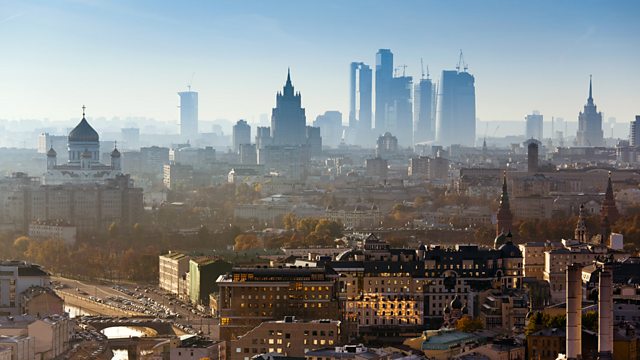 The Rise and Fall of Khrushchev
Martin Sixsmith walks down Cosmonauts Alley in Moscow where plaques and statues commemorate the achievements of the Russian space programme.
He uses archive recordings from 1961 when Yuri Gagarin became the first man in space. The USSR had beaten the US, and Khrushchev claimed vindication: "once-illiterate Russia has pioneered the path into space. Let everyone who has sharpened their claws against us know this!" He was determined to prove the USSR equal to the US, but he struggled to modernize and the Soviet Union remained a police state. He insisted the era of socialist struggle was over and fancifully predicted Communist perfection by 1980.
Having committed himself to big improvements in living conditions he had to start delivering, but Shostakovich's operetta Cheryomushki shows just how far the Soviet Dream had diverged from the reality of everyday life. The economy was slow to respond to Khrushchev; with few incentives to work hard, people joked 'they pretend to pay us and we pretend to work.' With agriculture failing to meet the country's needs, Khrushchev embarked on a series of disastrous grand schemes but still had to cut the defence budget to buy food. Perceived military vulnerability lead to thawing relations with the West, but Khrushchev continued to bluff and intimidate.
He told Western ambassadors that the triumph of communism was inevitable. "Like it or not," he said, "history is on our side. We will bury you." But humiliation in Cuba undermined his authority. While on holiday on the Black Sea in October 1964, he was summoned to Moscow and forced to resign. "I'm old and tired", he told a friend. "Let them cope by themselves. I've done the main thing. The fear has gone now; we can talk as equals. That is my contribution."
Producers: Anna Scott-Brown & Adam Fowler
A Ladbroke Production for BBC Radio 4.
Last on