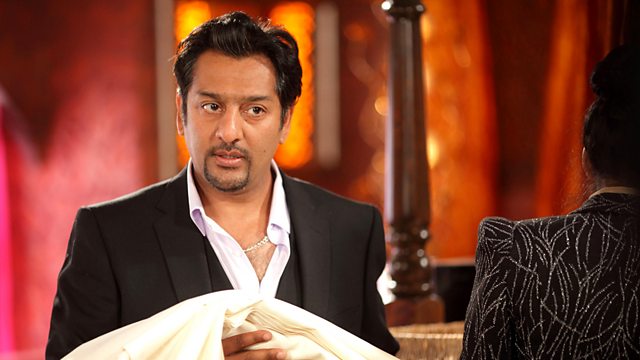 25/07/2011
The Moons leave their stock in the Square while they secure premises for their antiques emporium 'Moon & Sons'. With Tyler posing as a locksmith, Eddie heads for Mad Dog's lock up and insists he's just signed a lease for it. Mad Dog's dismissive until 'Ron' from the council arrives and backs up Eddie's claim. Later, in the Vic, 'Ron' is revealed to be Anthony - another of Eddie's sons. Michael watches his family celebrate. Anthony reminds Michael of an occasion they took the same side in an argument, he's gutted when Michael insists he doesn't remember. After hearing Anthony refer to Billy as an idiot, Lola finds Liam, who's guarding the Moons' stock, and orders him to follow her. Later, Eddie discovers his pile of stock is on fire – and ruined. Eddie pins Michael against a wall, sure he started the fire, and insists he's going to pay.
Afia isn't pleased when Tamwar asks Masood to help out at the Argee Bhajee. Zainab snaps at Afia after she insists that Masood's folding napkins incorrectly.
Tanya realises Lauren and Abi are having boy trouble. Tanya plans to meet Max, but after hearing Rainie criticize her in the Vic, returns home to her daughters instead. Meanwhile, suspicious of Max, Vanessa cleans frantically.
Jay's surprised when Abi wants to help him train – he thought they'd split up. Lola mocks Abi, and laughs when Jay accidentally hurts her. Later, Abi admits to Jay she hates boxing – maybe she's not the girl he wants. Abi's thrilled when Jay insists all he wants his girlfriend to be is her.
Roxy sacks Ryan from R&R for dealing, and is furious when Phil immediately re-hires him. Rainie's wasted; Phil claims he doesn't care but tells Ryan not to sell her any more drugs.
Last on
Credits
| Role | Contributor |
| --- | --- |
| Eddie Moon | David Essex |
| Michael Moon | Steve John Shepherd |
| Anthony Moon | Matt Lapinskas |
| Tyler Moon | Tony Discipline |
| Jean Slater | Gillian Wright |
| Masood Ahmed | Nitin Ganatra |
| Zainab Masood | Nina Wadia |
| Tamwar Masood | Himesh Patel |
| Afia Masood | Meryl Fernandes |
| Vanessa Gold | Zoe Lucker |
| Max Branning | Jake Wood |
| Tanya Branning | Jo Joyner |
| Lauren Branning | Jacqueline Jossa |
| Abi Branning | Lorna Fitzgerald |
| Jay Mitchell | Jamie Borthwick |
| Lola Pearce | Danielle Harold |
| Billy Mitchell | Perry Fenwick |
| Rainie Cross | Tanya Franks |
| Ryan Malloy | Neil McDermott |
| Phil Mitchell | Steve McFadden |
| Executive Producer | Bryan Kirkwood |
| Director | Michael Owen Morris |
| Writer | Peter Mattessi |
| Roxy Mitchell | Rita Simons |
| Liam Butcher | James Forde |
| Mad Dog | Vincenzo Nicoli |