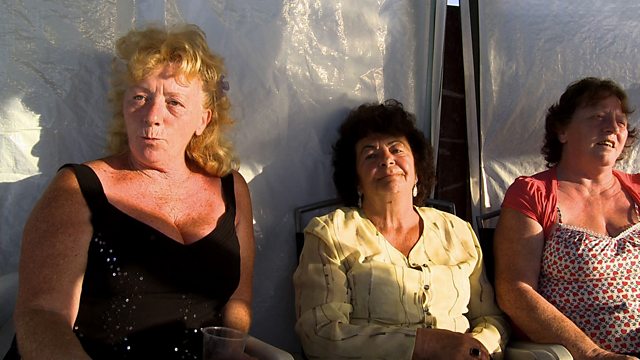 The Big Gypsy Eviction
Dale Farm in Essex is the largest Travellers' site in Europe. For ten years, fifty families have illegally occupied green belt land they own, but are not supposed to live on. For ten years, the local council has been trying to evict them, but only now - after a bitter campaign that has gone all the way to the House of Lords - is the climax to this battle in sight. A twenty-eight day notice to quit has been issued: either the Travellers move out peacefully, or an army of bailiffs and police will move in. Almost 10 million pounds have been set aside to fund the eviction.
For six years, film-maker Richard Parry has been filming all sides in this conflict. He has filmed the lives and stories of the Travellers on site - the extended clan of matriarchs Marianne McCarthy and Mimi Sheridan, their children and grandchildren. They say they will not leave Dale Farm without a fight; there are piles of gas canisters at the entrance, and four hundred angry Travellers who vow to meet force with force. Grattan Puxon, an activist who has fought the Gypsies' cause for fifty years, is on site directing resistence.
But Richard has also talked to the locals - and to Len Gridley, the unofficial leader of the residents' campaign against the Travellers. He says they are a menacing, destructive presence, and that they have brought down property prices. Len has had death threats, but he is determined to get the Gypsies off the land that borders his back garden.
This is the story of an epic dispute as it reaches a dramatic climax.
Credits
| Role | Contributor |
| --- | --- |
| Director | Richard Parry |
| Executive Producer | David Henshaw |