Main content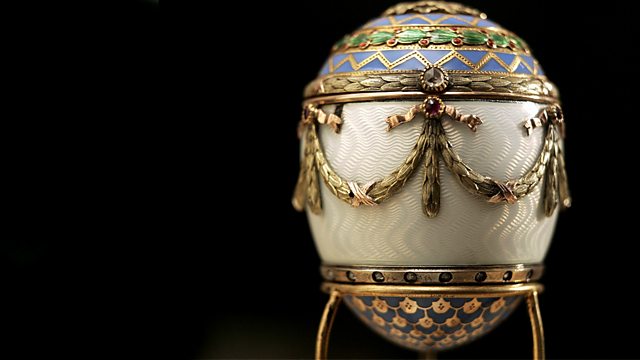 Faberge Eggs, Mother and Daughter Olympians, Cook the Perfect Scone
With Jenni Murray. Fabergé eggs return for the first time since the Russian Revolution; Belgium bans the veil; mother and daughter Olympians; cooking the perfect... scone.
Presented by Jenni Murray. At the turn of the 20th century they represented the ultimate luxury item. Now Fabergé eggs are being made again for the first time since the Russian Revolution. Toby Faber, author of 'Fabergé's Eggs' tells Jenni the romantic but turbulent story behind the most famous eggs in art and why Russia now wants them back.
This week marks one year to go until London 2012. The Olympics were last held in London in 1948, the post-war 'Austerity Olympics'. Muriel Hearnshaw (née Pletts) ran in the 1948 Games in the women's relay, in a race which was won by the Dutch team including Fanny Blankers-Koen who was later voted Female Athlete of the Twentieth Century. Muriel's daughter Sue won bronze in the long jump at the 1984 Games in Los Angeles. Jenni is joined by mother and daughter Olympians Muriel and Sue.
And the cooking the perfect series continues with cooking the perfect scone.
Chapters
Belgian Burka Ban

Radio France International's Molly Guinness and journalist Daniel Bacquelaine, the MP who proposed the legislation, discuss the ban.

Duration: 11:24

Mother and Daughter Olympians

Muriel Hearnshaw (née Pletts) ran in the Austerity Olympics in 1948 and her daughter Sue competed in the 1984 Games. They talk to Jenni about their different experiences.

Duration: 09:57

Faberge Eggs

Author Toby Faber discusses the renaissance of the ultimate luxury item.

Duration: 09:20

Cook The Perfect... Scone

Cook Hannah Miles delivers the latest in our Cook the Perfect... series.

Duration: 11:06