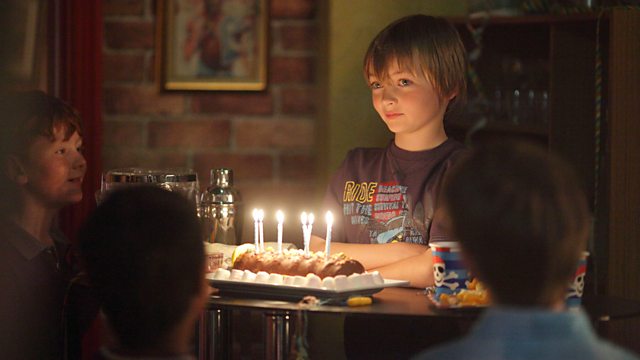 22/07/2011
When Vanessa treats Max to a special lunch, she's hurt when Max hurries through it claiming he has to work. Whilst cleaning, Vanessa discovers Max's bank statements and angrily confronts him about rent paid to a property agency, convinced he's having an affair. Max insists he's helping out a friend whose business is going under. Later, while Max is with Tanya, Vanessa's mugged and knocked to the ground, cutting her head. Eddie takes care of her in the Vic. Later at Max's, Vanessa discovers a lipstick on the floor and visits Tanya, confiding her worries that Max is having an affair. Vanessa's bewildered when Tanya tells her the lipstick's hers - Lauren must've borrowed it. Tanya swears that Max isn't cheating on her, he's even asked her advice about their wedding. Reassured, Vanessa leaves, leaving Tanya horrified by the lies she's told.
Having told Greg the contraceptive pills are hers, Lauren confronts Tanya. Tanya tells Lauren she loves Greg, but needs time to adjust to the idea of having more children.
When Tanya doesn't have time for Abi and Lauren, Rainie supports them. Tanya's horrified to discover that Rainie bought condoms for Abi. Rainie's upset when Tanya tells her she's never achieved anything in life. Rainie tells Ryan she knows he took the drugs from the dealer. Ryan offers her a freebie to keep quiet; she initially refuses but later accepts a wrap.
Ian's struggling to organise Bobby's birthday party. Mo steps in to help. When Ian's electricity blows, Denise holds the party in the B&B. Mistakenly encouraged by Denise's enthusiasm, Ian leans in for a kiss. Denise pulls away, horrified.
Eddie invites Carol for a goodbye drink. Carol's cold with him, but later mentions that Mo's friend Mad Dog is squatting illegally in his lock up. Eddie's intrigued.
Last on
Credits
| Role | Contributor |
| --- | --- |
| Tanya Jessop | Jo Joyner |
| Vanessa Gold | Zoe Lucker |
| Max Branning | Jake Wood |
| Lauren Branning | Jacqueline Jossa |
| Abi Branning | Lorna Fitzgerald |
| Greg Jessop | Stefan Booth |
| Rainie Cross | Tanya Franks |
| Ryan Malloy | Neil McDermott |
| Ian Beale | Adam Woodyatt |
| Denise Fox | Diane Parish |
| Kim Fox | Tameka Empson |
| Mo Harris | Laila Morse |
| Carol Jackson | Lindsey Coulson |
| Eddie Moon | David Essex |
| Tyler Moon | Tony Discipline |
| Jodie Gold | Kylie Babbington |
| Poppy Meadow | Rachel Bright |
| Bobby Beale | Alex Francis |
| Tiffany Butcher | Maisie Smith |
| Mad Dog | Vincenzo Nicoli |
| Executive Producer | Bryan Kirkwood |
| Director | Michael Owen Morris |
| Writer | Jake Riddell |