Main content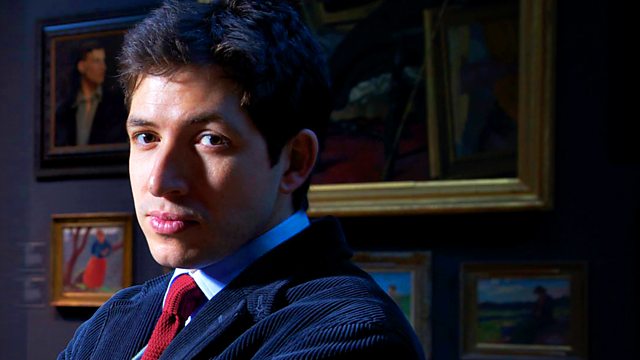 We Are Making a New World
James Fox looks at British art in the early 20th century, when a radical generation of painters pioneered a style that made sense of the modern experience.
In a major re-calibration of 20th-century British paintings, art historian James Fox argues that British painting from 1910 to 1975 was an extraordinary flowering of genius. He predicts that art historians of the future will rank the period alongside the Golden Ages of Renaissance Italy and Impressionist France.
Drawing upon the work of Paul Nash, Graham Sutherland, Francis Bacon, Stanley Spencer and David Hockney, among others, Fox explores why, during the 20th century, British painters were often dismissed for being old-fashioned. He reveals how these artists carefully reconciled tradition and modernity, providing a unique creative tension that now makes the period seem so exciting.
Over the course of the three-part series, Fox presents his theory that this period of artistic excellence was closely linked to a dramatic shift in Britain's fortunes. He suggests that the demise of the British Empire, as much as the two world wars, defines Britain's unique take on modern art: a determination to rediscover and cling on to 'Britishness' while the country's territorial assets and global influence fell away.
In the years immediately before and during the First World War, a radical generation of painters determined to eject Victorian sentimentality and nostalgia from their art pioneered a new style of painting that would capture and make sense of the modern experience. Walter Sickert shocked the public by making the low-lives of Camden Town and a brutal murder the subject of his gaze. Wyndham Lewis and David Bomberg broke with centuries of realist tradition, reducing humanity to cold geometric forms. But as the country descended into war, three painters - Christopher Nevinson, Paul Nash and Stanley Spencer - reconciled what was best of the avant-garde with Britain's rich painterly tradition to create powerful images of war that would speak to us all.
More episodes
Previous
You are at the first episode
Clips

Music Played
Timings (where shown) are from the start of the programme in hours and minutes
Debbie Wiseman

Dark Shadow

Debbie Wiseman

Hoc Est Bellum

Benjamin Britten

4 Sea Interludes, Op. 33A Dawn

Alec Gould

Country Village Fete

James McConnel

Ellis Island

Anthony Phillips

Anthony Phillips - Conspiracy Theory Catastrophe

Andrew Blaney

Aurora Borealis Epic Adventure

Ilan Eshkeri

Shadows, Mysteries & Beliefs

James McConnel

Sherlock Holmes

Anthony Phillips

Fire Mountain-Soundscapes

James McConnel

Depression

John Ashton Thomas

Treacherous Return

Al Lethbridge

Mysteries Of The Sea Inspiring Worlds

Jóhann Jóhannsson

Dying City

Luke Richards

Morning of the Attack

Dario Marianelli

Atonement: With My Own Eyes

Ian David & Regan Ryzuk - The Dead Sea

Paul Mottram

Passing Time

Luke Richards

It's Happening

Jóhann Jóhannsson

The Gift

Jóhann Jóhannsson

The Flat

Paul Mottram

Cumulo Nimbus

Kinsey Quintet

British Grenadier March No. 2

Debbie Wiseman

Edge of Paradise

Orlando Jopling

Sunrise (swell)

Igor Dvorkin / Duncan Pittock / Ellie Kidd

Ballet of the Bears

Paul Mottram

Mercurial Flight

Debbie Wiseman

Lest We Forget

Nick Ingman / Terry Devine-King

Asteroid

Gavin Bryars

Les Fiancailles

Oliver Ledbury

Lethal Injection

Debbie Wiseman

Forbidden Forest

Barrie Gledden / Chris Bussey

The Drowning

Al Lethbridge

Calm And Storm War & Struggle

Gavin Bryars

Cello Concerto Farewell To Philosophy

Al Lethbridge

Powerful Land Inspiring Worlds

Max Richter

Lullaby from the Westcoast Sleepers

Bernard Becker

Terrae Incognitae

Nils Frahm

Dedication, Loyalty
Credits
| Role | Contributor |
| --- | --- |
| Presenter | James Fox |
| Producer | Matthew Hill |
| Director | Matthew Hill |