Main content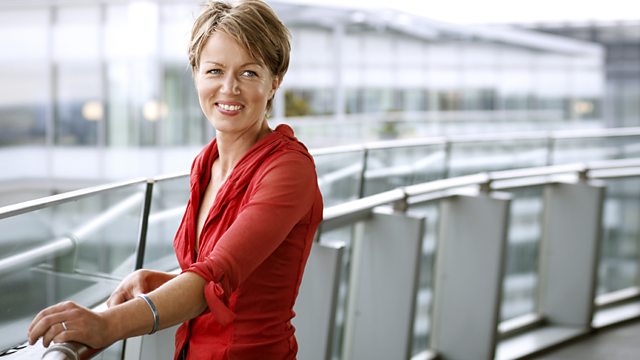 Verity Sharp - 12/07/2011
Verity Sharp presents a varied sequence of music, including British folk from The Unthanks, the Zimbabwean mbira thumb piano, and oud and percussion duo Joseph and James Tawadros.
Verity Sharp presents a diverse sequence of musical styles and cultures, including a track from the Unthanks latest album, the mbira thumb piano of Zimbabwe, Haiku à 6 by Friedrich Goldmann played by the Modern Art Sextet, and a piece by renowned oud and percussion duo Joseph and James Tawadros celebrating the Egyptian revolution.
Last on
Music Played
Mariza

Dona Rosa

Fado Tradicional.
EMI 0701722.

Calan

Trad arr. Calan: Y Pibddawnsiau (The Horpipes)

The Unthanks

Canny Hobbie Elliot

Last.
Rabble Rouser Promo.

Modern Art Sextet

Haiku à 6

Friedrich Goldmann Late Works.
Wire Promo.

Kaunas State Choir/Lithuanian National Symphony Orchestra

Kutavi?ius: Oh You Green Grasshopper

Last Pagan Rites.
Ondine ODE9722.

Emily Portman

Three Gold Hairs

Kevin Nathaniel (mbira)

Muchatera

Mbira Magical.
CD Baby KNH006.

Thomas Mapfumo

Shumba

Shumba.
Earthworks CDEW22.

Kuniko Kato (marimba)

Reich arr. Kuniko: Electric Counterpoint (3rd movement)

Kuniko Plays Reich.
Linn Records CKD385.

The Rip-Off Artist

Stuffing Box

Wire Tapper 08.
Wire Promo.

C.W. Stoneking

Jungle Blues

Jungle Blues.
King Hokum KHR02.

Polina Skovoroda & Fanfara

A bisele tsayt

Jóhann Jóhannsson

Jóhansson: There is No Safe Side but the Side of Truth

The Miners' Hymns.
Fat Cat Promo CD 13-13P.

Lampliter

Ben Jacob: Flowers of the Arab Spring

CD Promo.
http://lampliter.bandcamp.com.

Joseph & James Tawadros

Helm Ash-Shaab

From the Kasbah to Tahrir Square.
Network LC06759.

Alasdair Roberts

Kilmahog

Too Long in This Condition.
Navigator 040.

Alaisdair Roberts with Emily Portman

Trad. arr. Roberts: Little Sir Hugh

Too Long in This Condition.
Navigator 040.
Broadcast