Main content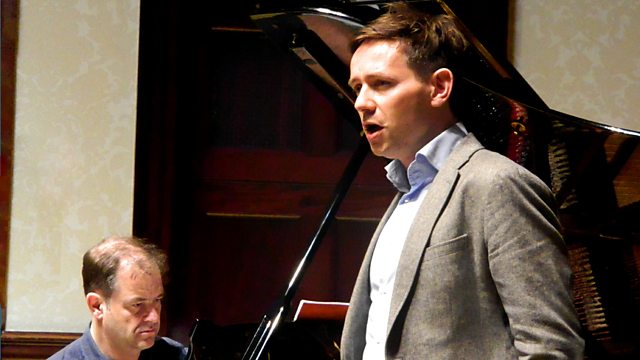 Iestyn Davies, Julius Drake
Countertenor Iestyn Davies and pianist Julius Drake perform a wide range of music from Wigmore Hall in London, including new works by Stuart MacRae and Joseph Phibbs.
The countertenor Iestyn Davies has won a reputation for performances on both the opera and concert platforms. In this programme he will surprise many in tackling repertoire rarely heard from a countertenor and includes two new works from Stuart MacRae and Joseph Phibbs.
Presented by Fiona Talkington
Iestyn Davies (countertenor)
Julius Drake (piano)
STUART MACRAE: The Lif of this World
POULENC: Le Bestiaire
BLÁAR KINDSDOTTIR: Haiku
FAURÉ: Clair de Lune
JOSEPH PHIBBS: The Moon's Funeral
DOWLAND: In darkness let me dwell
MAHLER: Um Mitternacht
VAUGHAN WILLIAMS: Orpheus With His Lute; The Watermill
FAURÉ: Prison
VAUGHAN WILLIAMS: The Sky Above the Roof
BETTY ROE: To God
DUNHILL : The Cloths of Heaven
RUBBRA : Psalm 150.