Main content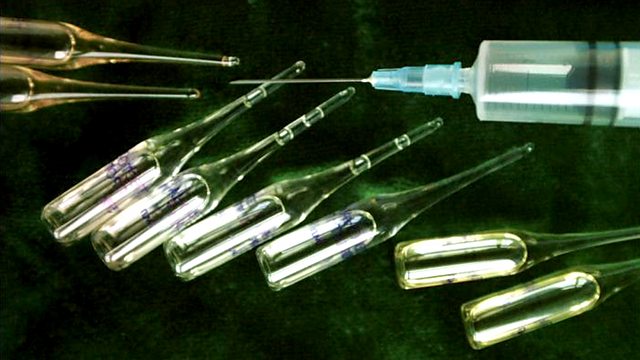 Becoming Superman: The Story of Steroids
Becoming Superman takes a frank and gritty look at both the appeal and dangers of steroid abuse, with contributions from current and ex-users, as well as psychology experts.
1Xtra takes a hard look at steroids. As their use becomes increasingly common among young people, this documentary takes a frank and gritty look at both the appeal and dangers of steriods abuse. With contributions from current and ex-users, drug addiction and psychology experts, as well as those that have suffered from the affects of their use, Becoming Superman - The Story of Steroids, gets to the heart of this tricky and often taboo subject.
The latest figures from the British Crime Survey (BCS), published by the Home Office, estimate 50,000 people in the UK are using steroids to train harder and quickly build muscle - or just to look better. And the number of young people taking steroids may have doubled in five years, according to one of the Government's top drug advisers.
But researchers claim the real number could be far higher because many people will not openly admit to using the substances, even in an anonymous survey like the BCS's. The ACMD (Advisory Council on the Misuse of Drugs) is calling for a ban on the sale of steroids from the hundreds of overseas websites which deliberately target British users and ship packets of drugs directly to the UK.
So what happens when you take them? Occasionally people get 'roid rage', becoming violent and sexually abusive - but no one knows if this is down to the drugs, or the people themselves. There are plenty of other side-effects ranging from the physical to the mental, from the minor to the severe. Doctors are seeing more teenagers with health problems after using them and figures show the number of people ending up in hospital with steroid poisoning or needle injuries has soared in the last five years. In some instances the damage can be fatal; we'll hear from the parents of Matthew Dear, a 17-year-old who decided to take steroids to help him bulk up so he could join the Royal Marines, but who died after a fatal reaction to them.
Becoming Superman investigates the scale of the situation, finding out the kind of pressures that are causing youngsters to take these drugs, and whether users know just how dangerous steroids can be.
Last on

Broadcast