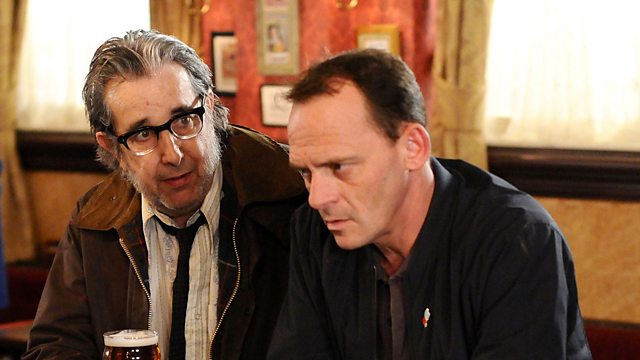 08/07/2011
When Ricky lends Janine money, Pat takes it back and tells Janine to leave Walford. In the chippy, Janine's fed up of Ian's taunts and attempts to pour a bucket of chip oil over him but accidentally covers herself. Throughout the day, Janine avoids a man searching for her, worried he's a debt collector. He eventually reveals he's from Lydia's solicitors; Lydia's named Janine as sole beneficiary in her will. Janine's shock quickly changes to wild delight; she's a millionaire!
Billy admits he's spent all of the kitty money, Julie's convinced he's given it to Janine. Billy meets Henry Mason in the Vic, but it's soon clear Mason's just using Billy for a free lunch. Phil does some digging and later presents Billy and Julie with an address for Dan Pearce, their son.
When Mercy gets a letter regarding her visa, delighted Fatboy believes that it's cause for celebration. Whitney has food spilt on her in the Vic and slaps Tyler as he enthusiastically "helps" clean her up. Fatboy's impressed by Tyler's chat-up lines. Whitney's intrigued that Lauren likes someone.
Alfie worries he's not an important part in Tommy's life, but Kat reassures him; as far as she's concerned, Alfie's Tommy's dad.
Although they both miss Ronnie, Roxy insists she and Jack have to stay strong. She bins all of Michael's things. Vengeful Jack tracks Michael down at the boxing club and forces him into the ring. Punching Michael repeatedly, Jack demands he leave the business. Michael refuses and Jack lays into him until Eddie intervenes. Eddie sympathises, but advises Jack that destroying the business won't bring Ronnie back.
Tanya gives Lauren the key to the flat Max rented; she won't need it. Max and Tanya try to end their affair, later when they find themselves alone they're unable to resist each other.
Last on
Credits
| Role | Contributor |
| --- | --- |
| Janine Malloy | Charlie Brooks |
| Pat Evans | Pam St Clement |
| Ricky Butcher | Sid Owen |
| Ian Beale | Adam Woodyatt |
| Julie Perkins | Cathy Murphy |
| Billy Mitchell | Perry Fenwick |
| Phil Mitchell | Steve McFadden |
| Alfie Moon | Shane Richie |
| Kat Moon | Jessie Wallace |
| Michael Moon | Steve John Shepherd |
| Jack Branning | Scott Maslen |
| Roxy Mitchell | Rita Simons |
| Max Branning | Jake Wood |
| Tanya Jessop | Jo Joyner |
| Lauren Branning | Jacqueline Jossa |
| Eddie Moon | David Essex |
| Tyler Moon | Tony Discipline |
| Mercy Chubb | Bunmi Mojekwu |
| Arthur 'Fat Boy' Chubb | Ricky Norwood |
| Whitney Dean | Shona McGarty |
| Jodie Gold | Kylie Babbington |
| Jon Hadley | Tom Cornish |
| Henry Mason | Brian Hibbard |
| Executive Producer | Bryan Kirkwood |
| Director | Lee Salisbury |
| Writer | Wendy Granditer |