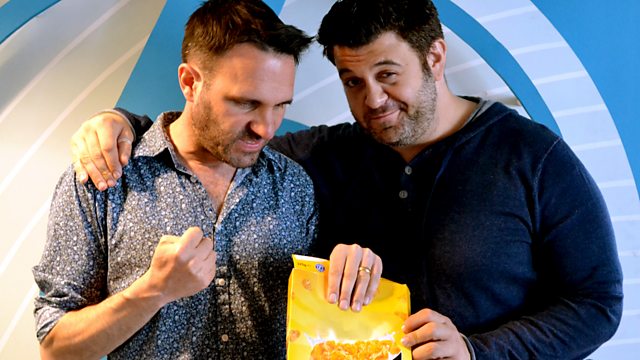 Made Up Words n' That.
Do you want too much chat, not enough music and too many adverts? Try someone else. Want the perfect balance of brilliant alternative music and waking witticisms? Try us. A rib-tickling satirical romp through the day's news and events, to the perfect morning soundtrack for anyone music-lover; from northern soul to new folk; rock 'n' roll to indie disco. New tracks from the likes of and Yuck, Friendly Fires and Joy Formidable are nestled in next to the back catalogues of The Smiths, Foo Fighters and Ride.
Matt Everitt was fresh from hanging out with Noel Gallagher and brought us the real reason why Oasis split involving a plum. FACT.
Adam Richman joined Shaun to talk about his Man Vs Food: The Carnivore Chronicles TV programme. He travels the United States hitting any recommended hotspots then gives us the inside scoop to the best 2 restaurants he finds before tackling his staple food challenge to finish each episode.
Shaun also celebrated your made up words....canolder, pregret, tump.......
Shaun Keaveny: Never knowingly overplayed.
Last on
Shaun Keaveny's Top 10 Tips for Hosting a Breakfast Show