Main content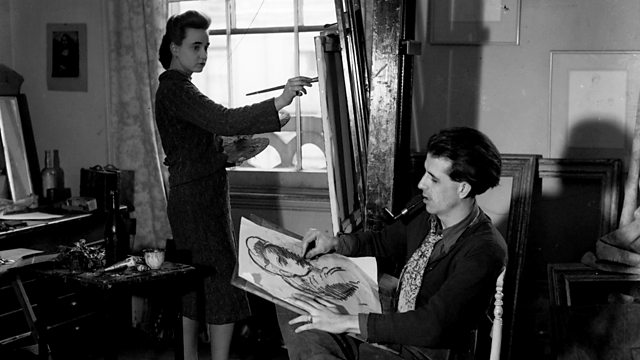 A Hundred Years of Mervyn Peake
From the island of Sark, the children of Gormenghast creator Mervyn Peake recall the father, the author and the painter they knew, on the centenary of his birth.
"The intense love for my parents, with its resultant anguish, lives on for me". Sebastian Peake, eldest son of Mervyn Peake, the remarkable author and artist, takes a return trip to the Island of Sark where he spent his childhood.
Peake, whose centenary is being celebrated this week, is best known for his 'Titus Groan' series of novels, and to a lesser degree his art and illustrations; but he was also a passionate husband, married to artist Maeve Gilmore, and family man. Never too busy to indulge his children, he enriched their lives with his fantastical imagination as much as those who read his novels or relished his art.
Here, Sebastian revisits the family home in the Channel Islands, walks the traffic free byways, recalling his remarkable father; the day he sketched 50 of the islanders at the annual fair; the acts of derring-do, climbing down to dangerous coves to gather semi-precious stones for Maeve; his time as one of the Sark Group of painters; and finally the days spent writing his most famous novel, 'Gormenghast'.
With his brother Fabian, he pours over diaries, paintings and sketches to talk about their father's artistic legacy, from the best loved "Treasure Island" illustrations to poignant sketches of the last inhabitants of Belsen. With his sister Clare, he mourns his fathers struggles in later life, the onset of Parkinson's and the difficult final years for the family, and their mother in particular.
This is the life of Mervyn Peake, from his youth as an artist, to his untimely death in 1957, having become one of the most truly imaginative and haunting writers in the world, talking to those who knew him best.
Producer: Sara Jane Hall.
Last on

Broadcasts

Featured in...
Watch and listen to featured Books programmes

A selection of programmes from the BBC archive - author interviews and profiles.