Main content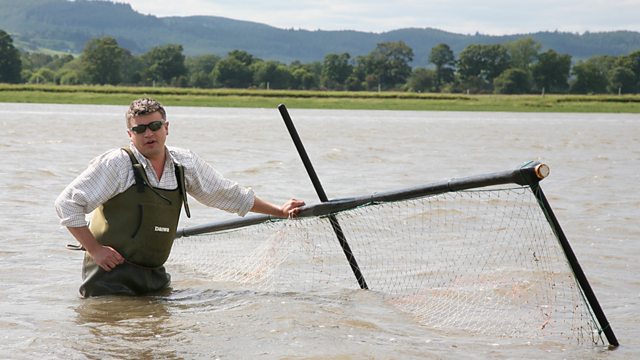 Food in the Scottish Borders
Sheila Dillon follows the River Nith from a hill farm down to the estuary, encountering rare breeds, tales of poaching, and an ancient Norse fishing tradition.
Ben Weatherall farms rare Blackface sheep and Galloway cattle on his remote hill farm near Dumfries, and aims to rear his animals with as little input as possible. He's one of a number of people working to keep food traditions alive in the Scottish Borders.
Following the River Nith downhill, as the animals will be doing later in the year, Sheila Dillon also meets Jim Henderson who has overseen the transformation of this stretch of the river. Formerly polluted and with low fish stocks it is now clean and stocks are thriving. Jim also plays a key part in the ongoing battle with poachers.
Ben's brother's farm is home to a rare herd of pedigree indigenous Ayrshire cattle. They're well known for their incredible cream and milk - but the raw (unpasteurised) milk is not allowed to be sold under Scottish law.
Robbie Cowan, Tom Brown and Ronnie Clark practice the ancient Norse fishing technique known as Haaf Netting, a practice in harmony with fish stocks. They believe the survival of this method to be essential to preserving local heritage, yet it's not possible to make a living from it now as fish numbers are down.
Producer: Rich Ward.
Featured in...
Celebrating Scotland's rich history, culture, landscape, food and heroes.

A selection of programmes celebrating British regional food