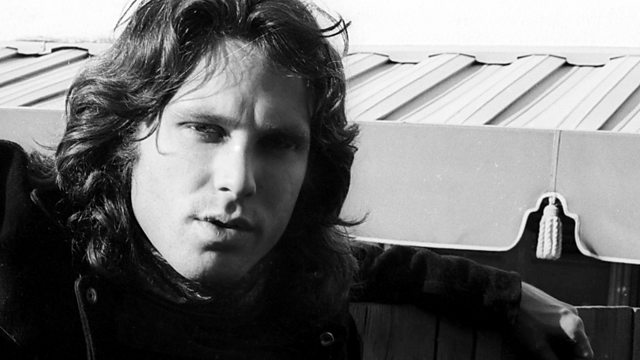 Mr Mojo Risin'
To mark the 40th anniversary of the death of Jim Morrison - The Doors' lead singer and one of rock's most enigmatic performers - Jerry Hall explores the hedonistic lifestyle of one of counterculture's most dynamic and influential poets.
The programme takes its title from the anagram of Jim's name - Mr Mojo Risin' - which was the refrain Jim sang on the title track of The Doors' final album LA Woman in 1971. At the time Jim told several friends that he was planning to fake his death and live in isolation in Africa, from where he would eventually contact them using his pseudonym. But 40 years on there is still no word from Mr Mojo Risin'.
The Doors were one of the most successful and influential bands of the late 60s and their lead singer was both hailed as a poet of the counterculture and reviled as a debauched demon. Jim Morrison was worshipped by his fans as a rock god and hated by the establishment as a corruptor of youth. Inspired by the poet William Blake who wrote "if the doors of perception were cleansed, everything would appear to man as it is - infinite", Jim experimented with psychedelics and probed "the bounds of reality to see what would happen".
But his decadent lifestyle slowly began to take its toll. After years of pushing the limits of experimentation with drink and drugs, Jim began to tire of the rock 'n' roll lifestyle. After The Doors finished recording their sixth album, LA Woman in 1971, Jim moved to Paris with his girlfriend Pam Courson and concentrated on writing poetry. On 3 July, Pam discovered Jim's body in the bath of their Paris apartment. Jim's death has been shrouded in mystery and many different versions have appeared - none of which has ever been confirmed, as Pam died three years after Jim.
Jerry's programme will explore Jim's love of poetry, The Doors' inspirational music, the impact Jim and the band had on following generations of rock stars and how Jim was forced out of America by the authorities and why he went to indulge his love of poetry in Paris. The mystery surrounding the cause and actuality of Jim's death has helped fuel the Morrison myth that extends beyond his grave.
The programme features contributions from the three surviving members of The Doors - Ray Manzarek, Robbie Krieger and John Densmore; as well as their producer/engineer Bruce Botnick; Jim's biographer Jerry Hopkins; Jim's close friend photographer Frank Lisciandro; author Phil Steele, who met Jim when he lived in Paris; and Tom DiCillo who wrote and directed The Doors' film When You're Strange.