Main content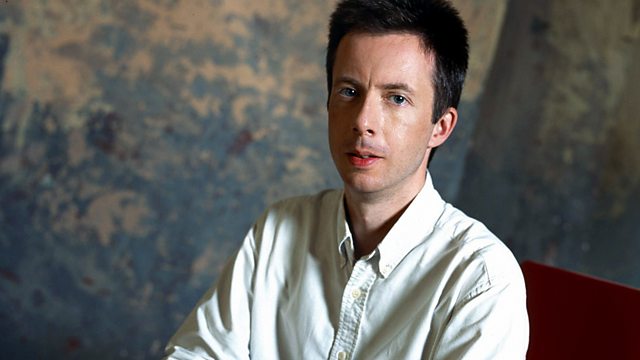 26/06/2011
John Shea's selection includes a performance given at the BBC Proms by Chinese pianist Lang Lang.
John Shea's selection includes superstar pianist Lang Lang, recorded at the BBC Proms
1:01 AM
Mozart, Wolfgang Amadeus (1756-1791)
Piano Sonata No.13 in B flat major, K.333
Lang Lang (piano)
1:21 AM
Rachmaninov, Sergey (1873-1943)
Prelude in Bb Major, Op.23 No.2; Prelude in G minor, Op.23 No.5
Lang Lang (piano)
1:29 AM
Chopin, Frédéric (1810-1849)
Andante spianato and Grande polonaise brillante (Op.22)
Lang Lang (piano)
1:44 AM
Schubert, Franz (1797-1828)
Fantasia in F minor for piano duet, D.940
Marc Yu & Lang Lang (piano)
2:04 AM
Debussy, Claude (1862-1918)
Preludes, Book 1 - La fille aux cheveux de lin; Les collines d'Anacapri
Lang Lang (piano)
2:16 AM
Traditional Chinese
Spring Dance
Lang Lang (piano)
2:22 AM
Liszt, Franz (1811-1886) transcr. Horowitz, Vladimir (1904-1989)
Hungarian Rhapsody No.2, S.244
Lang Lang (piano)
2:31 AM
Chopin, Frédéric (1810-1849)
Étude Op.10 No.3 in E major
Lang Lang (piano)
2:36 AM
Traditional Chinese
Sai Ma for erhu and piano
Lang Lang's father: Guoren Lang (erhu), Lang Lang (piano)
2:39 AM
Brahms, Johannes (1833-1897)
Variations on a theme by Haydn (Op.56a)
Berlin Philharmonic, Simon Rattle (conductor)
3:01 AM
Franck, César (1822-1890)
Sonata for violin and piano (M.8) in A major
Janine Jansen (violin), Kathryn Stott (piano)
3:28 AM
Schubert, Franz (1797-1828)
Symphony no.8 (D.759) in B minor 'Unfinished'
Norwegian Radio Orchestra, Markus Lehtinen (conductor)
3:53 AM
Handel, Georg Frideric (1685-1759)
Künft'ger Zeiten eitler Kummer (HWV.202) - No.1 from Deutsche Arien
Hélène Plouffe (violin), Louise Pellerin (oboe), Dom André Laberge (organ - 1999 Karl Wilhelm at the abbey church Saint-Benoît-du-Lac)
3:58 AM
Telemann, Georg Philipp (1681-1767)
Septet for 3 oboes, 3 violins and continuo (TWV.44:43) in B flat major
Il Gardellino
4:08 AM
Röntgen, Julius (1855-1932)
Theme with variations
Wyneke Jordans and Leo van Doeselaar (pianos)
4:19 AM
Meder, Johann Gabriel (1729-1800)
Sinphonia no.4 from 6 Sinphonie (Op.1 No.4)
Netherlands Radio Chamber Orchestra, Anthony Halstead (conductor)
4:32 AM
Eccles, Henry (1675/85-1735/45)
Sonata for double bass and piano
Gary Karr (double bass), Harmon Lewis (piano)
4:41 AM
Tallis, Thomas (c.1505-1585)
Loquebantur variis linguis for 7 voices
BBC Singers, Bo Holten (director)
4:46 AM
Vaughan Williams, Ralph (1872-1958)
Fantasia on a theme by Thomas Tallis
The Royal Academy Soloists, Clio Gould (director)
5:01 AM
Lyadov, Anatol (1855-1914)
The Enchanted Lake (Op.62)
Queensland Symphony Orchestra, Vladimir Verbitsky (conductor)
5:10 AM
Suriani Germani, Alberta (b.19??)
Partita
Branka Janjanin-Magdalenic (harp)
5:21 AM
Barber, Samuel (1910-1981)
Agnus Dei for chorus
BBC Singers, Stephen Cleobury (conductor)
5:29 AM
Ravel, Maurice (1875-1937) arr. Maganini, Quinto
Pavane pour une infante defunte arr. for oboe and piano
Roger Cole (oboe), Linda Lee Thomas (piano)
5:35 AM
Tanguay, Georges-Emile (1893-1964)
Pavane
Orchestre Metropolitain, Gilles Auger (conductor)
5:40 AM
Sjögren, Emil (1853-1918)
Sonata No.2 (Op.44)
Lucia Negro, ("Malmsjo" square piano (1868))
5:58 AM
Stainov, Petko (1896-1977)
Legend (symphonic poem after Yordon Yovkov)
Bulgarian National Radio Symphony Orchestra, Emil Karamanov (conductor)
6:15 AM
Mozart, Wolfgang Amadeus (1756-1791)
Flute Quartet No. 3 in C major, K. Anh. 171 K.(258b) followed by Flute Quartet No. 1 in D major (K. 285)
Dóra Seres (flute), The Young Danish String Quartet
6:41 AM
Franck, César (1822-1890)
Prelude, fugue and variation for organ in B minor (M.30) (Op.18)
Ljerka Ocic (organ of the Lisinski Concert Hall, Zagreb)
6:53 AM
Förster, Kaspar Jr (1616-1673)
O Quam dulcis
Olga Pasiecznik (soprano), Kai Wessel (alto), Krzystof Szmyt (tenor), Il Tempo Baroque Ensemble Agata Sapiecha (violin/director).