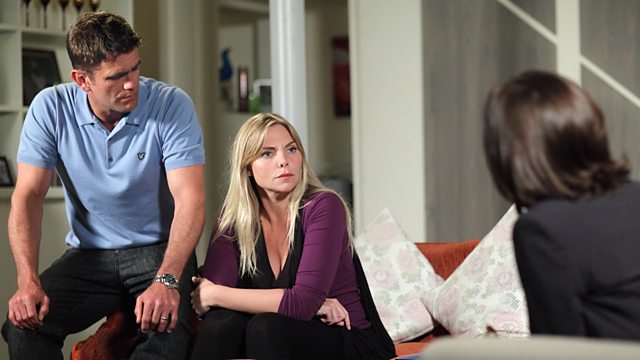 30/06/2011
Michael lies down on the bed next to Ronnie. When Jack wakes Ronnie, she assumes Michael's been sleepwalking again. Ronnie's solicitor suggests they ask people for character testimonies. Ronnie isn't thrilled to discover her QC wants to bring up her past in court. Kat's got a bad feeling, and when she sees Roxy excitedly hugging the solicitor fears Ronnie will walk free. Jack's feeling confident and confides in Michael that the QC hasn't lost a case in three years, if Ronnie gets off, they're going to leave. Michael offers to keep Ronnie occupied while Jack says goodbye to Tommy. Kat asks Jack who Roxy was hugging; Jack claims it was just one of Roxy's friends. Reassured, Kat tells Jack the door will always be open to him. When Roxy joins Michael and Ronnie at the Argee Bhajee, she's surprised to find them laughing and enjoying themselves. Alfie's angry when he sees Michael with the girls. Michael tells Alfie about the QC, then tells Ronnie and Roxy that Jack's visiting Tommy. Alfie returns to the Vic and punches Jack before throwing him out. Roxy takes Ronnie home, as Michael looks on, smiling.
Janine's landlord demands £300 rent. To raise the money, Janine tries to sell one of Pat's bracelets back to her, then agrees to be Ian's for the month. Tiffany takes photos of Janine scrubbing the chip shop floor. Janine gives the landlord his £300, but he evicts her anyway.
Eddie tells Tyler they need new stock, it's time to start looking at obituaries. Jean's flustered when Eddie says good morning to her. Tyler flirts with the women of Walford. The first time he hits on Whitney she punches him, the second time she tells him she's off men. Darren's jealous when Jodie and Poppy start complimenting Jodie's ex, now Poppy's boyfriend, Julian.
Last on
Credits
| Role | Contributor |
| --- | --- |
| Michael Moon | Steve John Shepherd |
| Jack Branning | Scott Maslen |
| Ronnie Branning | Samantha Womack |
| Kat Moon | Jessie Wallace |
| Alfie Moon | Shane Richie |
| Roxy Mitchell | Rita Simons |
| Janine Malloy | Charlie Brooks |
| Ian Beale | Adam Woodyatt |
| Pat Evans | Pam St Clement |
| Ricky Butcher | Sid Owen |
| Eddie Moon | David Essex |
| Tyler Moon | Tony Discipline |
| Executive Producer | Bryan Kirkwood |
| Director | Terry Dyddgen-Jones |
| Writer | Jeff Povey |
| Jodie Gold | Kylie Babbington |
| Darren Miller | Charlie G Hawkins |
| Whitney Dean | Shona McGarty |
| Poppy Meadow | Rachel Bright |
| Jean Slater | Gillian Wright |
| Tiffany Butcher | Maisie Smith |
| Catherine Kane | Tracy Wiles |
| Landlord | Dominic Grant |