Main content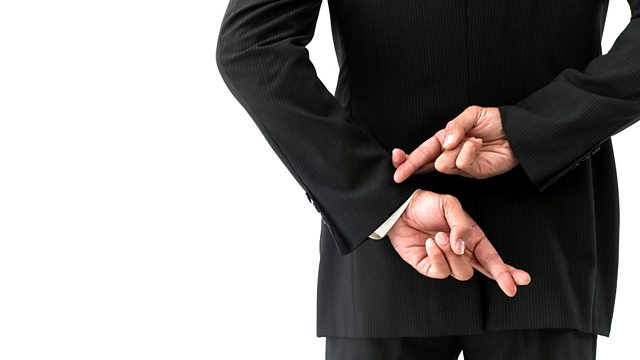 How can we pick a liar? Is it what they say, or what they do? Tim McInnerny continues Ian Leslie's book.
We think that people are lying when they mumble or they are embarrassed, but the liars amongst us are often those who are the most fluent speakers, the most charming people. Ian Leslie describes how two researchers discovered ways to pick those who were being economical with the truth.
Ian Leslie was born in 1972 and lives in London. He combines careers in advertising and writing. His first book, To be President (Politicos, 2008), an account of the 2008 US presidential election, was described by Adam Boulton as 'brilliantly capturing the drama and emotion of Obama's successful run for the White House' and was extracted by Granta. He regularly appears as an analyst of American politics on Sky and the BBC. He has written about politics, culture, marketing and psychology for Prospect, the Guardian, the Times and the BBC. He also blogs about all these things at Marbury, named one of the fifty 'Most Powerful' blogs in the world by the Observer.
'Consistently startling and fascinating. Most popular psychology books follow a depressingly familiar path: there's some dodgy theorising at the beginning, then a raft of dubious statistics with a few anecdotes to back them up. Born Liars, however, is in quite a different league. It's erudite yet wears its learning lightly and is full of terrific stories. It will also make you see yourself, and the world around you, in a new light.' - 'Book of the Week', Daily Mail
Written by Ian Leslie
Abridged by Pete Nichols
Reader: Tim McInnerny
Producer: Rosalynd Ward
A Sweet Talk Production for BBC Radio 4.