Main content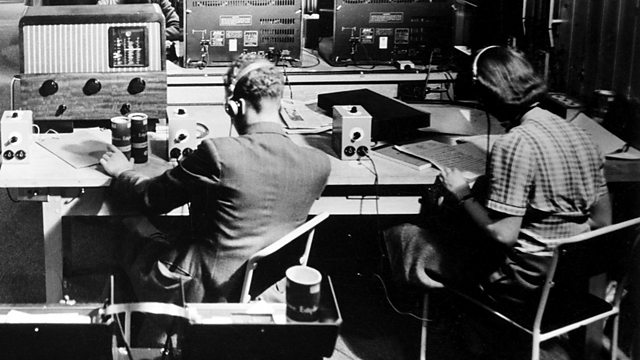 Margaret Wilkinson - Can You Hear Me
4 Extra Debut. In 1940, translator Anna is disturbed by her lover's voice on the airwaves at a government listening post. Stars Morven Christie.
A new drama by Margaret Wilkinson.
It is the summer of 1940 and Anna, a young Italian translator is working at the BBC's Wood Norton Hall, Evesham: a government listening post where she monitors enemy domestic radio broadcasts. Her work is secret; she looks for buried information on troop movements in Italian radio broadcasts and provides information to the Allies. Anna works alongside sound engineers and other translators, including young German translator Fred who is in love with Anna.
One day the voice of Anna's recently interned Italian lover Carlo comes over the airwaves asking for her help. Anna is gripped by a fierce dilemma. As Carlo's communications increase in frequency, passion and urgency, Fred discovers Anna's activities and warns her not to believe what she hears, this could be an enemy spy posing as Carlo.
When news comes in that a ship carrying Italian internees has been struck by a torpedo from a German submarine, Anna is shocked to hear that it is The Arandora Star, a ship she believes Carlo to have been aboard. Fred urges Anna to inform the authorities immediately; she cannot aid an enemy fugitive.
Will Anna risk losing everything for Carlo?
ANNA.....Morven Christie
FRED.....Matthew McNulty
CARLO.....Cesare Taurasi
MRS FELLOWS.....Sarah Parks
Directed by Nadia Molinari.