Main content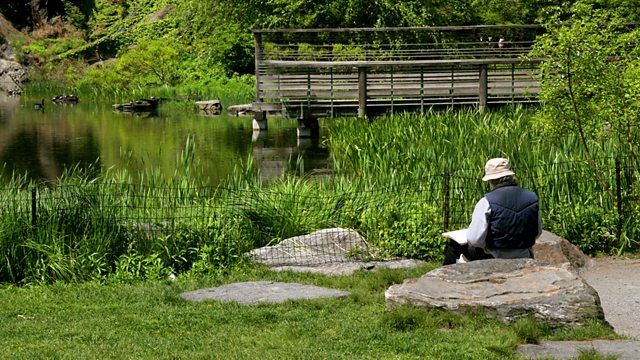 Green Ears
Professor Trevor Cox explores how sonic design can be applied to help improve how our outdoor spaces sound. From 2011.
Many of us think of our gardens, parks and green urban spaces as retreats and oases of calm from our busy lives, others think of them as places for fun, socialising and play, whereas there are some who think of them as just hard work. Whatever we think, we usually think of them in terms of what they look like, even maybe what they smell like. But in Green Ears, Professor Trevor Cox explores what they sound like.
Acoustics play a massive part in our sense of space. With loud noises like traffic or industrial works actually causing us harm. The right sorts of sounds, at the right volume and pitch though can really help to enhance our sense of tranquility.
So what are the sounds we most like to hear in our gardens? Water trickling, birds singing, bees buzzing, wind rustling leaves and children playing (quietly or from a distance!) can be as calming as beautiful planting and clever layout. But it has to be the right trickle of water, get it wrong and you may find you want to rush to the loo! too loud and the sense of Niagra Falls in your small back yard can feel threatening. Trevor talks to the scientists who have put it to the test and found the water sound we all seem to enjoy. He talks to garden designers who not only think about harmonising colours and textures of plants, but think about how they'll attract birds and insects into the garden as well as creating cocooned quiet spaces and introducing natural noises.
Plants can also be used to block out or distract you from unwanted sounds. Green walls not only reflect sounds, but they can also absorb them. Again water can be used to distract you from a busy motorway - and these have all been used to varying effect by urban planners aiming to create pockets of peace and calm in busy cities.
Trevor also explores the use of artificial sounds in our green spaces and finds out how a garden in Florence is being used as a sound laboratory to test cutting edge sonic devices to see if they can increase the harmony of the garden.
First broadcast on BBC Radio in June 2011