Main content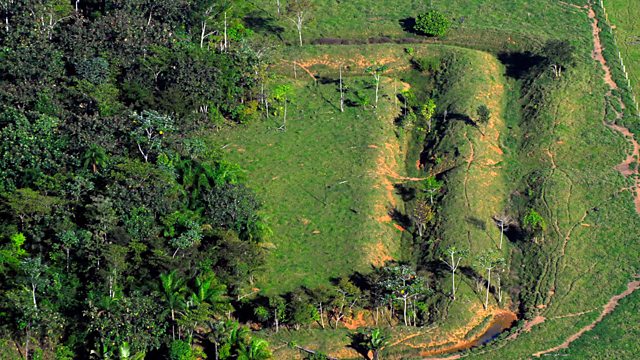 A look at how new evidence of ancient man's influence shows that the Amazon rainforest, the epitome of a last wilderness under threat, may not be as natural as we believe.
The Amazon rainforest is the epitome of a last great wilderness under threat from modern man. It has become an international cause celebre for environmentalists as powerful agricultural and industrial interests bent on felling trees encroach ever deeper into virgin forest. But the latest evidence suggests that the Amazon is not what it seems.
As more trees are felled, the story of a far less natural Amazon is revealed - enormous man-made structures, even cities, hidden for centuries under what was believed to be untouched forest. All the time archaeologists are discovering ancient, highly fertile soils that can only have been produced by sophisticated agriculture far and wide across the Amazon basin. This startling evidence sheds new light on long-dismissed accounts from the very first conquistadors of an Amazon teeming with people and threatens to turn our whole notion of wilderness on its head. And if even the Amazon turns out to be unnatural, what then for the future of wilderness?
More episodes
Next
You are at the last episode
Credits
| Role | Contributor |
| --- | --- |
| Narrator | Deborah Maclaren |
| Executive Producer | Neil Nightingale |
| Series Producer | Andrew Murray |
| Producer | Susie Painter |
| Producer | Raquel Toniolo |