Main content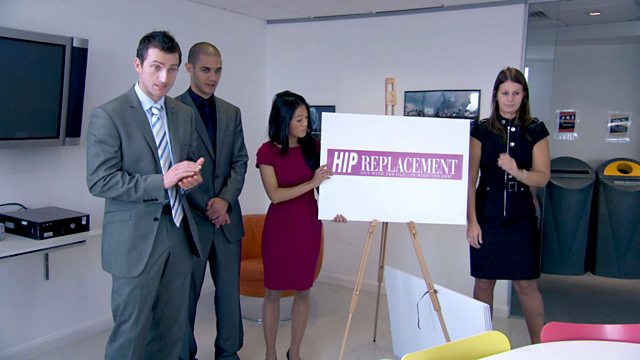 Business-based reality show. The teams are called to Fleet Street, where Lord Sugar informs them that they will be creating and publishing a free magazine.
The teams are called to gleaming offices in Fleet Street, home to London's oldest newspaper district. Lord Sugar informs the candidates they'll be creating and publishing a free magazine. But first he shuffles the teams, appointing the project managers.
Free magazines earn money by selling advertising, but advertisers only buy space in titles with a surefire market. As such, the teams must choose a hit subject, produce appropriate editorial content and convince advertisers they will reach a big audience.
As Karren keeps notes, one team is led downmarket by their editor with a low-brow lads' magazine. The other team, accompanied by 67-year old Nick, goes for the oldies market, and on the way comes up with some patronising names (causing raised eyebrows from Nick!). But despite some research with sprightly over-sixties, it soon descends into stereotypes. Karren winces as the lads' mag embraces innuendo and photoshoots get racy. Spot research on the street sends signals that the lads' mag may be off-course, but the magazine editor continues to push the boundaries.
At the pitches, one team doesn't know what it's selling, while both teams fail to negotiate until it is almost too late. In the boardroom the final ad sales surprise Lord Sugar, leaving the losing team bickering in a blame game. But when the final page is turned, the end words are: "You're fired!".
Credits
| Role | Contributor |
| --- | --- |
| Participant | Lord Sugar |
| Participant | Lord Sugar |
| Participant | Lord Sugar |
| Participant | Nick Hewer |
| Participant | Nick Hewer |
| Participant | Nick Hewer |
| Participant | Karren Brady |
| Participant | Karren Brady |
| Participant | Karren Brady |
| Executive Producer | Michele Kurland |
| Executive Producer | Michele Kurland |
| Executive Producer | Michele Kurland |
| Series Editor | Mark Saben |