Main content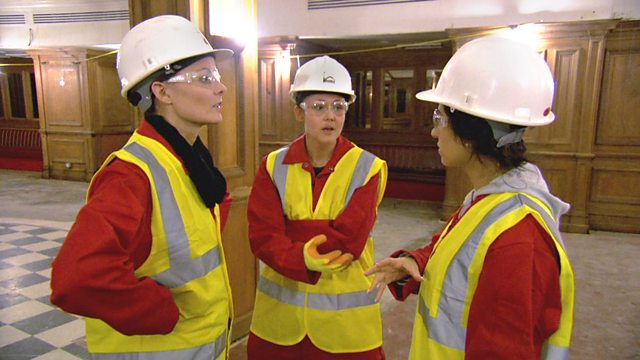 Lord Sugar instructs the teams to build junk collection businesses. With tough scrap dealers and quick-witted builders, profit proves hard to find amongst the refuse.
After last week's dramatic boardroom, it's back to basics as Lord Sugar calls the teams to a rubbish dump. He explains the hidden value in the things people throw away and instructs the teams to build junk collection businesses. He re-balances the teams, then they are off to hunt for scrap.
Sporting fluorescent jackets, boots and gloves, the teams divide resources - half in a truck to pick up rubbish, half pulling in business and quoting on some big clearances set up by Lord Sugar. The trick is to spot value among the waste (which they must pay to dispose of), then bid low to shift everything, or even offer to take it free in the hope they'll cover their costs.
It turns out to be physically and mentally exhausting, reducing one project manager to tears. Tough cockney scrap dealers and quick-witted builders give the teams a run for their money and profits prove hard to find among the bags of rubble and the grisly junk in back alleys. Plans fail to deliver and some swift rethinks save the day as both teams fight for margins in a world of totting-up, rounding-down and folding money.
Lord Sugar loves this type of task and in the boardroom he picks over the results with relish. The numbers prove almost too close to call, but one team stumbles and there is nothing for it but to find someone to carry the can, then it's - 'You're fired!'.
Credits
| Role | Contributor |
| --- | --- |
| Participant | Lord Sugar |
| Participant | Lord Sugar |
| Participant | Lord Sugar |
| Participant | Nick Hewer |
| Participant | Nick Hewer |
| Participant | Nick Hewer |
| Participant | Karren Brady |
| Participant | Karren Brady |
| Participant | Karren Brady |
| Executive Producer | Michele Kurland |
| Executive Producer | Michele Kurland |
| Executive Producer | Michele Kurland |
| Series Editor | Mark Saben |