Main content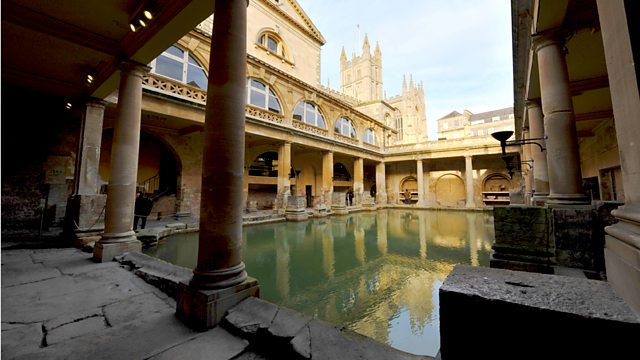 Julian Barratt from The Mighty Boosh; Bath's Roman Baths
Kirsty Lang visits Bath's Roman Baths, shortlisted for the 2011 Art Fund Prize; Julian Barratt and Doon Mackichan take on Gogol's classic satire, Government Inspector.
With Kirsty Lang.
Kirsty visits Bath's Roman Baths Museum, shortlisted for the Art Fund Prize 2011 - a £100,000 award, given annually to the museum or gallery of the year. This year's winner will be announced by Michael Portillo, chair of judges, on Front Row on 15 June.
Julian Barratt and Doon Mackichan are both steeped in British comedy: Julian as one half of The Mighty Boosh and Doon in TV series such as Smack The Pony and The Day Today. They talk about their roles on stage in a Russian comic classic, Gogol's Government Inspector. When a corrupt small-town mayor discovers a government official is coming to inspect them, chaos breaks out.
Award-winning British film-maker Nick Broomfield talks about his campaign to restore an art deco cinema in Zanzibar.
South African crime writers Deon Meyer and Mike Nicol discuss the way news events inform their writing.
Mike Nicol's Black Heart ends his Revenge trilogy, which features private security operatives Mace Bishop and Pylon Buso and their nemesis, Sheemina February. Deon Meyer's Thirteen Hours follows the multi-racial Cape Town police force tracking down an American tourist who has been kidnapped.
Producer Rebecca Nicholson.
Chapters
Julian Barratt and Doon Mackichan

Julian Barratt and Doon Mackichan

An interview with Julian Barratt (The Mighty Boosh) and Doon Mackichan who appear in The Government Inspector.

Duration: 07:17

Bath's Roman Baths

Bath's Roman Baths

A report from Bath's Roman Baths - in line for the Art Fund prize 2011.

Duration: 08:39

The Majestic, Zanzibar

The Majestic, Zanzibar

British film-maker Nick Broomfield talks about his campaign to restore an art deco cinema in Zanzibar.

Duration: 05:15

South African Crime Fiction

South African Crime Fiction

South African crime writers Deon Meyer and Mike Nicol discuss the way news events inform their writing.

Duration: 06:34