Main content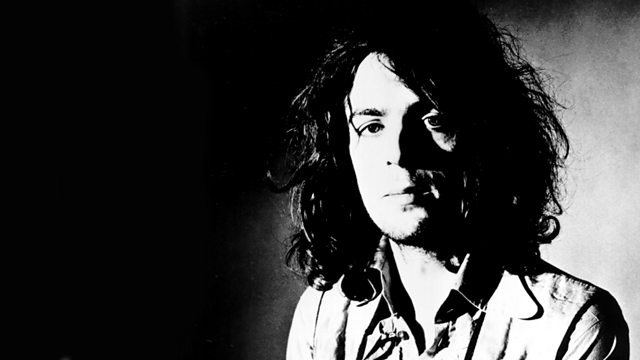 The Twilight World of Syd Barrett
John Harris explores the tragic mental breakdown of Syd Barrett, the former front man of the rock group Pink Floyd. From 2011.
Since his death on the 7th July 2006, Syd Barrett lives on freeze-framed, still young and a striking lost soul of the 1960s whose brief moment of creativity outshines those long years of solitude shut away in a terraced house in his home town of Cambridge.
This revealing programme hears how his band Pink Floyd (and family) coped with Barrett's mental breakdown and explores the hurriedly arranged holiday to the Spanish island of Formentera - where the star unravelled. We also hear about his pioneering brand of English psychedelic pop typified on early Pink Floyd recordings 'Arnold Layne', 'See Emily Play' and the strange songs on Pink Floyd's impressive debut album 'The Piper At the Gates of Dawn'.
Undoubtedly Barrett's experimentation with the drug LSD affected him mentally and the band members reveal how concerned they were when he began to go catatonic on-stage, playing music that had little to do with their material, or not playing at all.
By Spring 1968 Barrett was out of the group and after a brief period of hibernation, he re-emerged in 1970 with a pair of albums, 'The Madcap Laughs' and 'Barrett', but they failed to chart and Barrett retired to a hermit life existing under the watchful gaze of his caring sister Rosemary (featured in the programme)
David Gilmour, Nick Mason and Rick Wright (one of the last interviews before his sad passing) reveal how there was little understanding of mental illness when it came to the drug fused culture of the time. These days a strung out star is hurriedly booked into the Priory and given counselling. Barrett's mental breakdown was not understood and the steps taken to help him were inappropriate and still rankle the members of Pink Floyd today...
Producer: John Sugar
A Sugar Production for BBC Radio 4 first broadcast in June 2011.
Last on
Broadcasts