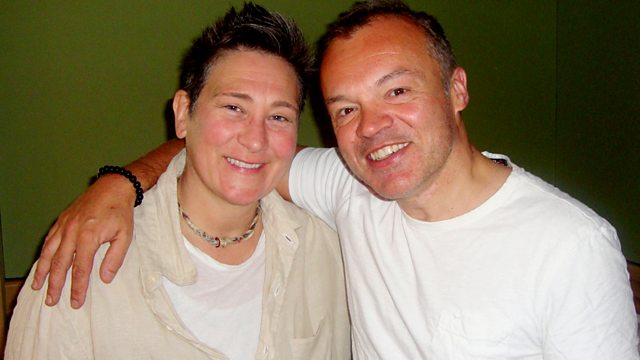 A trio of delight, with kd lang, Alfie Boe and Matt Lucas
Graham's first guest this week was the Canadian singing sensation kd lang, who spoke about her latest album, 'Sing It Loud', and touring with her band, the Siss Boom Bang... and why she has a fascination with crows. And top tenor Alfie Boe, and top actor Matt Lucas popped in to tell Graham about starring together in the West End production of 'Les Miserables' as Jean Valjean and Thenardier respectively.
In this week's Grill Graham Jan from Ilfracombe wanted advice on how to deal with her boss who is rather smelly! And Ben wanted to know how to tell a holiday romance that he didn't want a relationship, and that it was simply a 'holiday romance' and nothing more... to him anyway.
John in County Armagh was responsible for this week's 'I Can't Believe It's Not Better' song, which was 'Day Trip to Bangor' by Fiddler's Dram. He suggested it after hearing it on his MP3 player, which is a confession in itself. The song made it to Number 3 in the charts back in 1979...
And in 'Tune with a Tale', Sally Brown from Bristol explained the story behind Pink Martini's 'Hey Eugene!'. Sally also told Graham she has two cats. Graham wasn't interested... if they'd been dogs, it would have been another story... they'd still be talking!
Last on