Main content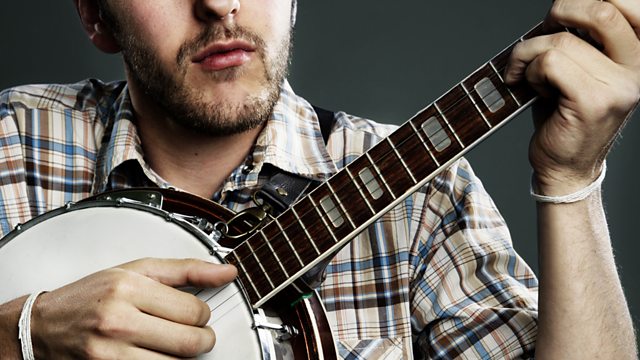 Sore Fingers
4 Extra Debut. Eavesdrop on banjo mania in Stow on the Wold, as Bluegrass enthusiasts bring American Appalachian music to town. From June 2011.
It's like Billy Bunter with banjos. The unmistakeable sound of Appalachia in Stow on the Wold: Bluegrass enthusiasts pack up their banjos and fiddles for a week of fast and furious music which has become a fixture on the international Bluegrass calendar.
Bluegrass is a relatively recent form of American folk music - made popular in the 30s and 40s by Bill Monroe. The music has its roots in the folk music of Ireland, Scotland and England - taken over with the early settlers and fused with other American influences. But it's made a return journey back across the Atlantic with burgeoning interest here in American Bluegrass and Old Time music. Every year since 1996 a Summer School and convention for Bluegrass enthusiasts - called Sore Fingers - takes place during the Easter vacation at Kingham Hill school in the Cotswolds. As the pupils depart for the holiday a new set of students arrives - some with moustaches, all with an instrument and, for five days, the Oxfordshire playing fields and quads echo to the sound of Kentucky. The instruments include banjo, fiddle, mandolin, Dobro and guitar. It's called Sore Fingers for a reason: the students and the tutors play all day and late into the night.
The talent is prodigious - the fastest picking you're likely to hear this side of Pike County. Amongst the tutors are world class players flown in from America - including banjo player Tony Trischka, flat picker Jim Hurst and Dobro virtuoso Mike Witcher. Amongst the students there are grizzly beards from Doncaster who've been flat picking and claw hammering for fifty years, alongside teenage virtuosos - including 16 year old Edward Bennett from Cornwall, winner of the Clifftop, West Virginia Banjo competition. This programme eavesdrops on a week at Sore Fingers talking to the players about their lives outside and inside the Bluegrass camp: we hear about the history of the music, its revival in England and dip in to some of the classroom sessions. We hear from the Scouse sheet metal worker who gave it all up to make banjos; the couple who met in the fiddle tutor group and who've been together ever since and the carer sent to Sore Fingers by the council for a respite break who keeps coming back. All this and some fine, uplifting music.
Last on
Broadcasts