Main content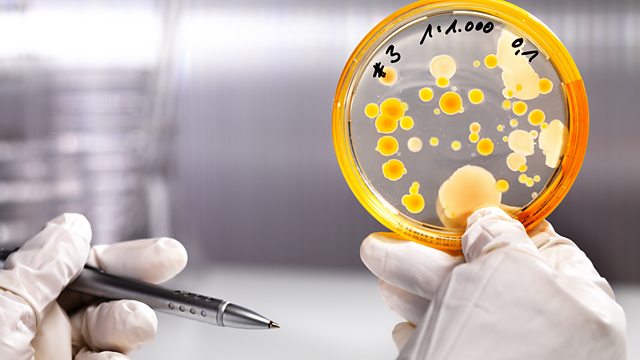 Human microbes
In the first of a new series, Geoff Watts visits the Human Microbiome Project, sequencing the genomes of bacteria which live on our body to discover how they affect our health.
Our body is the playground for around 100 trillion microbes, hiding in our mouth, nose, guts, skin and genitals.
In the first in a new series of Frontiers, Geoff Watts visits the Human Microbiome Project in the US, where they're sequencing the genomes of bacteria which live on our body. Our microbes help us digest food in our stomach, produce natural moisturisers on our skin and synthesise vitamins in our intestine.
"We need to start thinking of ourselves as super-organisms," says Dr Julie Segre, senior investigator at the US National Institute of Health. "This is the second genome - the bacterial genomes as well as the human genomes, all of that is part of the true genetic content of a human."
The Human Microbiome Project aims to catalogue 3,000 microbes on our body and sequence their genes. The theory is that we have co-evolved with our microbes in order to defend our bodies against pathogens. Geneticists are aiming to find out what constitutes a healthy microbial community, and what happens when the group is invaded by 'bad' bacteria.
Geoff also talks to a group of scientists from MetaHIT - a European project which concentrates on the human gut. They have found that we all fall into one of three distinct types, depending on the dominant group of bacteria living there.
New research has suggested that pathogenic microbes could be implicated in a whole host of diseases, including obesity, heart disease, cancer, Alzheimer's, arthritis and autism.
"We may find there are new links between the human microbiome and diseases that today we don't think of having any underlying microbial component," says Claire Fraser-Liggett, Director of the Institute for Genome Sciences at the University of Maryland.
The hope is that this research may pave the way for more personalised treatments which could help get our bacterial communities back on the right track.
Producer: Michelle Martin.
Last on
Broadcast