Main content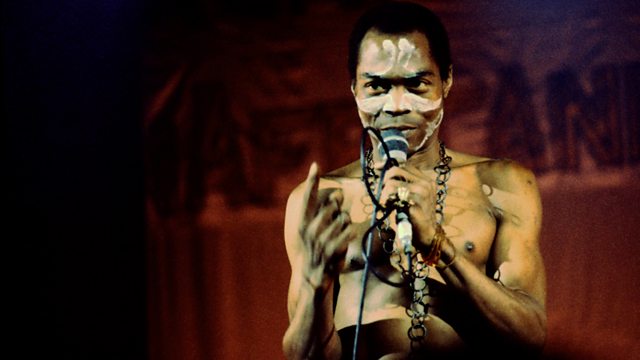 Fela Kuti Comes Home
The story of the Nigerian musician and political revolutionary, and his cultural impact in Africa and beyond. From 2011.
Fela Kuti is Africa's most famous musician. Before his death in 1997 he recorded nearly 50 albums and invented his own genre of music: Afrobeat. In the 70s and 80s his legendary club in Lagos was famed for housing the best live band on Earth. As witnessed by James Brown, Stevie Wonder and Paul McCartney.
But there was more to Fela Kuti than ground-breaking music. He was also a political revolutionary who spent his life strongly criticising successive military regimes in his native Nigeria. While his contemporaries would sing in more general terms of oppression, Fela singled out his targets, personally naming them in songs which became popular all over Africa. It wasn't long before he was a hero to many working class Nigerians.
But his taunts didn't go down so well with the authorities. Nor did his controversial lifestyle: he openly smoked marijuana, declared his home an independent state of Nigeria and married 27 women on the same day. The story goes he was the most arrested person in Nigerian history. He appeared in court hundreds of times, had spells in prison and permanently suffered from his injuries after regular beatings at the hands of the military and police. Fela believed they were also responsible for the death of his mother, who was thrown from an upstairs window when his home was stormed by 1000 soldiers.
In 2009 his incredible story was turned in to a successful Broadway musical and it was performed in Lagos for the first time in 2011. Fela Kuti was coming home. But while the rest of the world is finally paying attention to this musical and political revolutionary why will you struggle to hear any of his music on Nigerian radio? Have they forgotten Fela? Or do the powers that be still find his music offensive? Radio 4 visited Lagos to find the answers.
First broadcast on BBC Radio 4 in May 2011.
Last on
Broadcasts

Featured in...
An archive overview of the MINT countries and economic issues.

Download a brand new episode each week & listen on demand to the full collection.

From Armstrong to Zappa - music documentaries from the Radio 4 archive.