Main content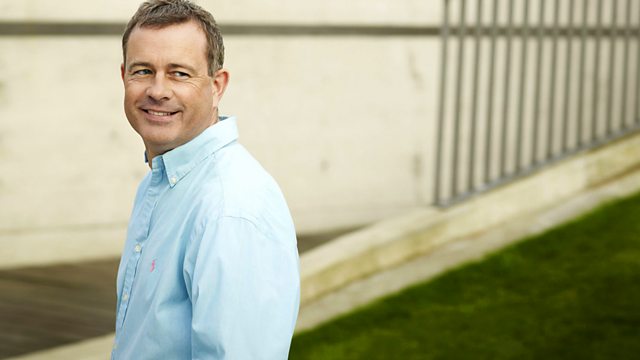 Friday - James Jolly
With James Jolly. Smetana: The Bartered Bride Overture. Rodrigo: Concerto de Aranjuez. Haydn: Symphony No 45. Warlock: Capriol Suite. Piazzolla: Invierno Porteno; Verano Porteno.
With James Jolly. This week performances by early music specialist Roy Goodman, and our Friday Virtuoso is guitarist Manuel Barrueco in Rodrigo's Concierto de Aranjuez.
10:00
Smetana
Overture:The Bartered Bride
Pro Arte Orchestra
Charles Mackerras
EMI CDM 7 63779 2
10:07
Friday Virtuoso
Rodrigo
Concerto de Aranjuez
Manuel Barrueco (guitar)
Philharmonia Orchestra
Placido Domingo (conductor)
EMI 556175-2
10:30
Artist of the Week
Haydn
Symphony No. 45 in F sharp minor (Farewell)
The Hanover Band
Roy Goodman (director)
Hyperion CDH55118
10:58
Warlock
Capriol Suite
English Sinfonia
Neville Dilkes (conductor)
EMI 9689392
11:08
Friday Virtuoso
Piazolla
Invierno Porteno
Verano Porteno
Manuel Barrueco (guitar)
Tonar 70715
11:41
"A little piece of magic - fourteen minutes of perfection" (1001 Classical Recordings You Must Hear Before You Die). In 1938, the founder of the Proms Henry Wood requested from Ralph Vaughan Williams a piece for a London concert to celebrate his golden jubilee as a conductor. Wood contributed the request to showcase sixteen leading soloists of the day; Vaughan Williams chose the text from Shakespeare's The Merchant of Venice. The classic recording, made just ten days after the premiere with the same exquisite team, brings vividly to life music designed to celebrate the art of singing and music itself. In essence, what really comes across is an act of homage by the soaring singers to the conductor himself.
Vaughan Williams
Serenade to Music
Sixteen soloists
BBC Symphony Orchestra
Henry Wood (conductor)
Dutton CDBP 9707.