Main content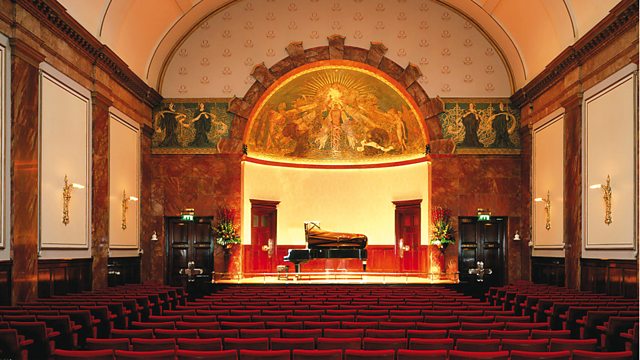 Wigmore Hall 110th Anniversary
Christopher Cook tells the story of the Wigmore Hall, from its beginnings as a recital room built to be a showcase for pianos, to being one of the world's best chamber venues.
In the interval of the gala concert celebrating the 110th anniversary (to the day) of its opening, Christopher Cook tells the story of the Wigmore Hall. He traces the hall's history from its beginning, as a recital room built by Bechstein's, whose showrooms were close by, to showcase their pianos, to today, when this beautiful Edwardian building is one of the most highly regarded chamber music venues in the world. Audiences love its architecture, its acoustic, and the adventurousness of its programming.
The Wigmore Hall was designed by Thomas Colcutt, who also designed state rooms on P&O liners. He loved the Renaissance, hence its alabaster and marble walls, flooring and stairway. In the First World War hostility to German businesses compelled Bechstein's to sell the hall (to Debenhams). It had had cost £100,000 to build but the hall itself, its studios, offices, warehouses and 137 pianos fetched only £56,500. It was refurbished in 2004, and every week Radio 3 broadcasts one of its concerts, live.
Great people have performed there, including Prokofiev, Poulenc and Britten and Pears - several of Britten's chamber and vocal works were given their first performances at the Hall; Jacqueline du Pré played the cello; the Amadeus Quartet gave many memorable concerts. Now its programming includes jazz, too.
Christopher explores the building's history and talks to musicians, and audience members, about its future, too.
Producer: Julian May.