Main content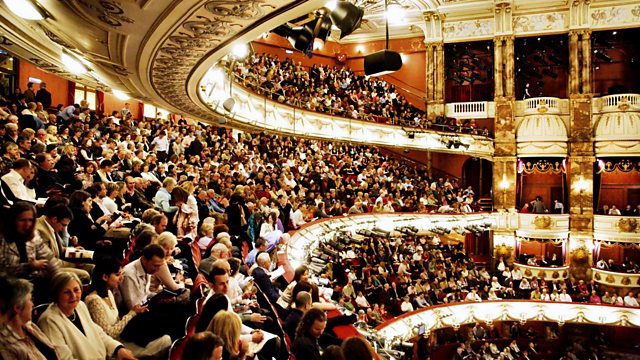 Weinberg's The Portrait
From the Grand Theatre, Leeds, Christopher Cook presents an Opera North production of Moisey Weinberg's three-act opera The Portrait, based on a short story by Nikolai Gogol.
The Jewish composer Moisey (Mieczyslaw) Weinberg was born in Poland, but fled from the Nazis to Russia where he became a close friend of Shostakovich. However, today his music is much less well known than that of his contemporaries. His 3-act opera The Portrait is based on a short story by Nikolai Gogol, and tells the cautionary tale of the painter Chartkov who yearns for fame and fortune until he acquires a portrait which brings him exactly that. Blinded by the attentions of the rich and famous he betrays his artistic integrity and, distraught at his own actions, resorts to desperate measures.
This new production by Opera North is directed by David Poutney, a leading figure in the revival of Weinberg's music. Acclaimed tenor Paul Nilon takes the lead role of Chartkov and the Orchestra of Opera North is conducted by Rossen Gergov.
Presented by Christopher Cook with David Nice, an expert on Russian music.
Chartkov ..... Paul Nilon (tenor)
Liza ..... Katherine Broderick (soprano)
Nikita ..... Richard Burkhard (baritone)
Professor of Fine Arts/Journalist/Art Dealer/Landlady/Earl ..... Peter Savidge (baritone)
Lamplighter/Noble Gentleman ..... Nicholas Sharratt (tenor)
3rd Seller/Dignitary ..... Jonathan Best (bass)
Policeman/General ..... Richard Angas (bass)
Female Seller/Lady in Waiting ..... Helen Field (soprano)
1st Seller/1st Waiter/Turk ..... Mark Le Brocq (tenor)
2nd Seller/2nd Waiter/Cavalry Officer ..... Christopher Steele (tenor)
Noblewoman ..... Carole Wilson (mezzo-soprano)
Orchestra of Opera North conducted by Rossen Gergov.