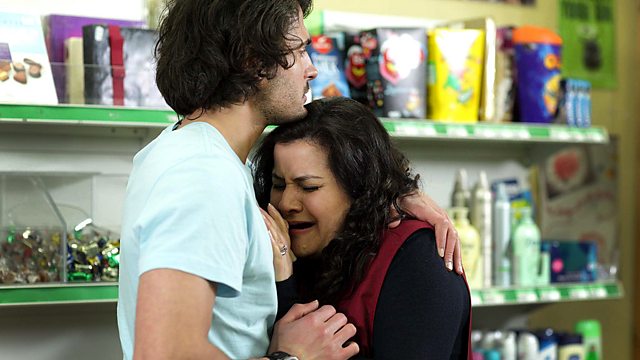 27/05/2011
Zainab is an emotional wreck and near exhaustion, Yusef gives her some pills to help her sleep. Zainab's reluctant, but pockets them. She stubbornly rebuffs Syed's idea of marriage counselling, but lets him comfort her. Fed up of their lies, Tamwar confronts Masood and Zainab about their marriage problems. Frustrated that Zainab won't talk things through, Masood threatens divorce. Furious, Zainab brings up his dalliance with Jane, Masood's adamant that he did nothing wrong, Yusef is their only problem. Zainab defends Yusef, Masood's a failure as a husband, a man and a father, and throws him out. Masood gone, Zainab dissolves into tears, and considers the pills Yusef gave her.
Syed has his doubts when Christian arranges a flat viewing with a garden to aid their adoption application. Later, Christian's hurt when Syed pulls away from him in front of Zainab. He's terrified that Syed's growing relationship with Zainab will come between them. Syed insists that he does want a life with Christian, how can he prove it? Christian asks a shocked Syed to marry him.
Janine's irritated when Lydia has all her possessions moved into her flat, but quickly changes her mind when she learns of their immense value. Lydia disapproves of Kim's flirting with Greg and Ricky. Ricky and Pat are upset when Lydia clearly favours Janine over Ricky.
It's Mercy and Fatboy's wedding day, and Kim urges Fatboy to tell Mercy his true feelings, Fatboy thinks she'd run a mile if he did. Mercy nerves get the better of her, and wants Lauren to tell Fatboy the wedding's off.
Kim's touched when Denise, Patrick and Yusef surprise her with champagne on her birthday.
Last on
Credits
| Role | Contributor |
| --- | --- |
| Syed Masood | Marc Elliott |
| Christian Clarke | John Partridge |
| Masood Ahmed | Nitin Ganatra |
| Zainab Masood | Nina Wadia |
| Tamwar Masood | Himesh Patel |
| Dr Yusef Khan | Ace Bhatti |
| Mercy Olubunmi | Bunmi Mojekwu |
| Arthur 'Fat Boy' Chubb | Ricky Norwood |
| Lauren Branning | Jacqueline Jossa |
| Jodie Gold | Kylie Babbington |
| Grace Olubunmi | Ellen Thomas |
| Pat Evans | Pam St Clement |
| Ricky Butcher | Sid Owen |
| Lydia Simmonds | Heather Chasen |
| Janine Malloy | Charlie Brooks |
| Greg Jessop | Stefan Booth |
| Kim Fox | Tameka Empson |
| Denise Fox | Diane Parish |
| Patrick Trueman | Rudolph Walker |
| Darren Miller | Charlie G Hawkins |
| Executive Producer | Bryan Kirkwood |
| Director | Richard Platt |
| Writer | Daran Little |