Main content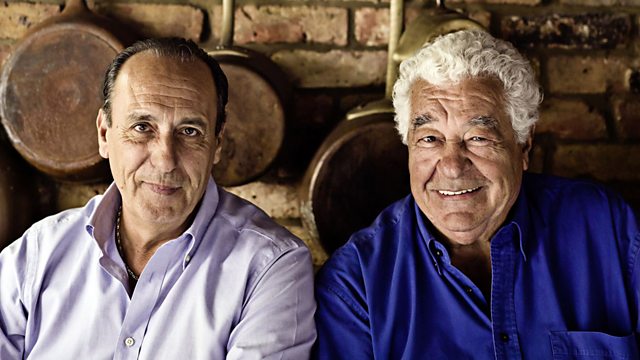 Chefs Antonio Carluccio and Gennaro Contaldo return to Italy. This time they want to see if regional pride in food is as strong today as it was in their boyhoods.
Internationally renowned chefs and old friends Antonio Carluccio and Gennaro Contaldo return to the Italy they left more than 40 years ago, to discover what has changed in Italian culture and how that has affected the way Italians eat.
When Antonio and Gennaro were boys, every Italian thought that the food from their own region was the best. In this episode they set out to discover if regional pride is still as strong today.
Antonio returns to his home town of Borgo Franco to devour the truffles, cheeses and game of the Piemonte region in the far north-west of the country. From the moment they arrive, it's a battle between north and south, with Gennaro reluctantly admitting that the local food has some merits despite its lack of vegetables.
The pair join in the celebratory feasts of the Asti palio, a famous horse race celebrating an ancient battle between regions. The local fans are passionate about their riders and the pair nearly come to blows when they support opposing teams.
They discover that there are changes afoot in Italy, however. The recent waves of immigration have brought strange, new ingredients to the Turin vegetable market and foreign food producers are being restricted by tough rules from nationalistic politicians. The question is, will Antonio and Gennaro embrace the new influences on their beloved Italian cuisine? Or are the Two Greedy Italians traditionalists at heart?
Antonio cooks a traditional dish of pasta ribbons with chicken liver sauce, and a German-influenced apple strudel which brings back memories. Gennaro gets creative with pork fillet with honey and ginger.
Credits
| Role | Contributor |
| --- | --- |
| Presenter | Antonio Carluccio |
| Presenter | Gennaro Contaldo |
| Series Producer | Nicola Gooch |
| Director | Danny Horan |