Main content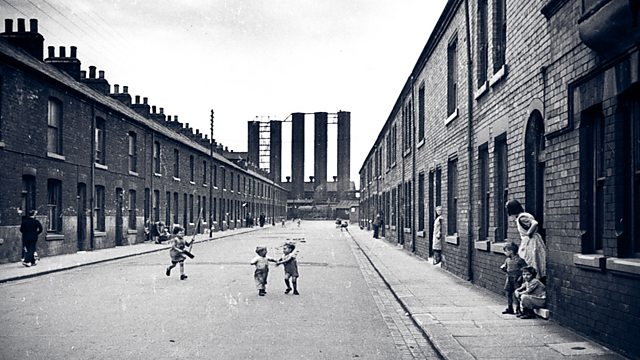 Whistling Wally's Son
Ten-year-old Jamie Dickinson stars in this play by Wally K Daly, who recalls events in his home town of Middlesbrough which later shaped his career as a writer.
Earlier this year playwright Wally K Daly revisited his home town of Middlesbrough and went to the area where he had grown up in Grangetown all of which has virtually disappeared. Most of the local industry has gone together with all the surrounding housing, school and pubs.
His play recalls the street in which he lived, his earliest war time memories, the people he knew, their fears and tragedies, the 'sessions' in bombed houses and the return of his father from a prisoner of war camp. He remembers in particular his love for his mother and the death of his father, Whistling Wally and how these events from his childhood have had a profound effect on his writing career.
Auditions were held in Middlesbrough to find two children to play major parts. Jamie Dickinson stars as the young Wally K Daly and Jodie Day plays two roles, Mary Wrigglesworth and Kathleen Daly. Also in the cast are others originally from the Middlesbrough area including Monica Dolan, David Seddon, Neil Grainger and Marlene Sidaway.
Wally K Daly was recorded on location near the site of his former home on Vaughan Street and also on Eston Hills where he played as a child. The play is directed by Martin Jenkins who first worked with Wally K Daly on his first radio play in 1974.
Director: Martin Jenkins
A Pier Production for BBC Radio 4.
Credits
| Role | Contributor |
| --- | --- |
| Kevin | Jamie Dickinson |
| Whistling Wally | David Seddon |
| Mam | Monica Dolan |
| Kitty | Monica Dolan |
| Kathleen | Jodie Day |
| Mary | Jodie Day |
| John | Neil Grainger |
| Fr O'Hagan | Tom Bevan |
| Mrs Meskill | Marlene Sidaway |
| Director | Martin Jenkins |
| Writer | Wally K Daly |