Main content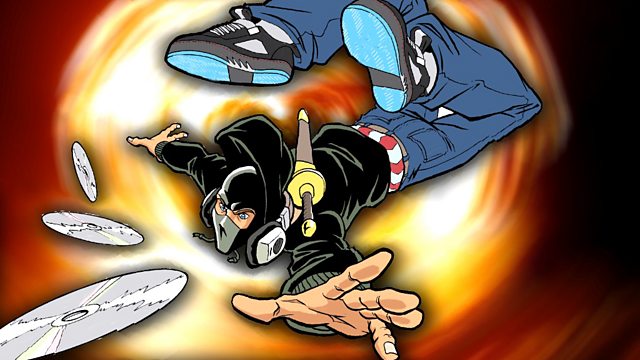 Jaguar Skills in the Mix!
Our favourite jump up electro DJ Kissy Sell Out is away but do not fear, Jaguar Skills and his amazing friends step in and provide a two-hour electro mix!
Our favourite Jump Up Electro DJ Kissy Sell Out is away tonight, but do not fear as Jaguar Skills and His Amazing Friends step in and provide an amazing 2 hour electro mix!
Jaguar Skills rules the mix with a little help from some friends: DJ At War, Taku Takahashi, A Skillz, Funtcase, Union DJ's, Kamuki, Rory Lyons, Modstep & Krafty Kutz.
Loads of upfront electro sounds plus the Beat Boxing Hobbit and Vernon Kay playing a rapping version of 'Name That Game show'...
Music Played
Jaguar Skills Intro

Terravitta

Up In The Club

Jag's Dangerous Jag Remix.

Unknown Error

The Curse

Jag's Toolroom Warface Remix.

Jakes

Warface

Jag's Toolroom Curse Remix.

High Rankin

Don't Carry On Like A Rude Boy At Jagfest

DJ AT WAR IN THE MIX

Queen

Another One Bites The Dust

Cidinho & Doca

Rap Das Armas

Untitled

Hardwell- Encoded (Dada Life Remix)

Afrojack & Quintino

Selecta

Jack Beats ft John B

All Night

Lethal Bizzle

Pow 2011 (feat. Jme, Wiley, Chip, Face, P Money, Ghetts & Kano)

Jag's Battle Fever J Remix.

Flux Pavilion

Lines In Wax

Pantha

Candy Shop

Jag's Kissy Show Version.

DJ At War And Jaguar Skills

The 9 Levels Of Power

Hobbit - Guess The Beatbox Part 1

TAKU TAKAHASHI IN THE MIX

Taku Takahashi aka The SUITBOYS

Calypso Till Dawn

Zombie Nation

Day of Many

Hoshina Anniversary Remix.

Norihito Ogawa

What Do You Think

Untitled

Boys Noize_- Shizzo (Hoshina Anniversary Remix)

Norihito Ogawa

Laughing Man

Mop of Head

C Remix

Remixed by DJ Raymond from The Samosand Takeru and John Otoguro from TCY RADIO.

Dexpistols & M.S.K.

House In My House

Dexpistols

New Jack House feat. JON-E

Fantastic Plastic Machine

Madness

Usagi Maison

Mais Um Shot (Ft. Patricia)

The Lowbrows

A Knight To Remember

Kou Shibasaki

Mukei Spirit

Eccy

Solve The Fullmoon Sex

RQM

Colors Fade

SoccerBoy & Kan Takahiko Remix.

The Groove Shadows

100 Love

VERBAL

Change Change (Ft.Nicki Minaj)

THE SUITBOYS aka Taku Takahashi Remix.

m‐flo

Miss You

THE SUITBOYS aka Taku Takahashi Remix.

Jaguar Skills

We On

THE SUITBOYS aka Taku Takahashi Remix.

Danny Wheeler & The Suitboys aka Taku Takahashi

Let It Flow

Space Message

Kakkoku Housou Denpa On

Lgb

…. Jaguar Skills, I Hate Him!

A SKILLZ IN THE MIX

Grandmaster Flash & The Furious Five

Freedom

The Sugarhill Gang

Rapper's Delight

House of Pain

Jump Around

Lex Mind vs SlyJohnson

Different Boogie

Incredible Bongo Band

Apache

Trouble Funk

Drop The Bomb

Marlena Shaw

California Soul

Aloe Blacc

I Need A Doller

Cypress Hill

Lick A Shot

Funkanomics vs A.Skillz Re-Edit.

Untitled

The Prodigy -Voddoo People (Pendulum Remix)

Jaguar Skills & DJ Heven

Have Some Tea

MJ Cole & Wiley - From The Drops

Flux Pavilion

Bass Cannon

Jon Cuttlefish & Jaguar Skills

Instant Hog Pot

UNION DJ'S IN THE MIX

RackNRuin

Dazed & Confused (Ft. Janai & Illaman)

Marco Del Horno & DJ Swerve

Ho Riddim!

Jaydan & Sub Zero

Brainfreeze

Doctor P

Sweet Shop

Friction and Camo & Krooked Remix.

Hobbit - Guess The Beatbox Part 2

Christian Prommer

Strings Of Life

Jag's MTV Toolroom Remix.

DJ At War & Jaguar Skills

Potential Super Violence

FUNTCASE IN THE MIX

Genetix & Persist

Falling Down

FuntCase

Snake Fist Style

Groovefinder feat. Machele Montano

Get Madder

KAMUKI IN THE MIX

Wolfgang Gartner

Illmerica

Major Lazer - Pod De Floor

Afrojack & Bobby Burns

Ghettoblaster

Stanton Warriors

Shoot Me Down

Schmoove & Brothers D

Wanna Lick It

DJ Fresh & Sigma

Lassitude

Far East Movement ft Snoop Dogg

Omg

Vato Gonzalez

Badman Riddim

Static Revenger - I Like That

The Prodigy

Everybody in the Place

Sandy B

Make The World Go Round

Sneaker Pimps

Spin Spin Sugar

The Bucketheads

The Bomb! (These Sounds Fall Into My Mind)

Hobbit - Guess The Beatbox Part 3

[unknown]

Different Strokes

Mr. Oizo

Let the Children Techno

Justice

Justice - Civilisation

Spiller

Pigeonman's Revenge

His Majesty Andre

Clubs

Rory Lyons Seriously Disco Re Edit.

Aloe Blacc

I Need A Dollar

Utah Saints

What Can You Do For Me

Untitled

Mr Oizo Rubber (Rory Lyons Remix)

The Crookers & Soulwax

We Are Animals

Jag's Big Papa Levi Remix.

MODESTEP IN THE MIX

The Verve/Zodiac

Bittersweet Domino

Camo & Krooked/Missy Elliot

Feel Your Freaky Pulse

Hamilton/Dead Prez

Hip Hop Soundboy

Jaguar Skills

Jay-Z and Chips

Jag's Battle Fever J Remix.

Jaguar Skills

The Hypno Wristband

Lgb

You Gonna Play This Ish All Night?

KRAFTY KUTZ IN THE MIX

Fatboy Slim - Talking About My Baby

Skint

Fatboy Slim - Mad Flava

Skint

Funkdoobiest

The Funkiest Acappella

Ice Cube & Dr Dre

Natural Born Killaz

Jonny L

Back To Your Roots

Red Hot Chili Peppers

Under The Bridge

Jimmy Ruffin

What becomes of the Broken Hearted

Wondawulf

Too Hot For Drumstep

Figure & Will Bailey

Move

Jillian Ann Love & Light

Know Us

Planet Funk

Chase The Sun

Utah Saints

What Can You Do For Me

Drumsound & Bassline Smith Remix.

DJ Vizzice

Hold On To Your 808

Pendulum Feat Freestylers

Fasten Your Seatbelts

Krafty Kuts & Featurecast Remix.

Dynamite MC Outro

Instant Vibes

Hobbit - Guess The Beatbox Part 4

Lalo Schifrin

Enter The Dragon

Sean Miller & Daniel Dubb

Sinnerman