Main content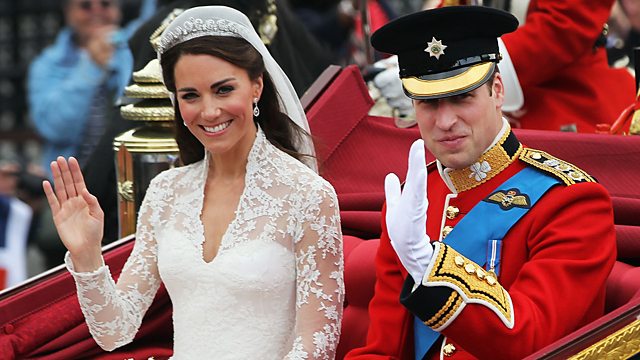 Part 2: Wedding Ceremony and Procession
Huw Edwards, Sophie Raworth and Fiona Bruce present full, uninterrupted coverage of the wedding of Prince William and Catherine Middleton.
Live from London, around the UK and across the world, it's the wedding of the century - and everyone's invited, as Huw Edwards, Sophie Raworth and Fiona Bruce present full, uninterrupted coverage of the day's events.
In a modern fairytale steeped in tradition, Prince William will marry Catherine Middleton in front of a congregation which includes kings and queens, cabinet ministers, butchers, grocers and postmen. An estimated two billion viewers will watch worldwide, and a team of BBC reporters will be capturing all the stories, reactions and celebrations on a day of unadulterated national celebration.
1000
With the final preparations underway, royal commentators and historians give their perspective about the day's events. The groom will be putting his own finishing touches in place, while fashion experts Paula Reed and Phillipa Lepley speculate on the burning issue of the day - Kate's dress.
1030
As street parties all over the UK swing into action, the team will have news from around the country on how the celebrations are going via email, Twitter, text and old-school word of mouth.
Meanwhile, the world waits for the first sight of the royal bride. Shortly before 11am, Catherine Middleton will step into the car that will take her on the journey of a lifetime.
1100
The marriage service begins. Huw Edwards provides commentary as Prince William marries Catherine Middleton, presided over by the Archbishop of Canterbury and before the world.
1200
At the end of the service, the newlyweds set off on a carriage ride to Buckingham Palace to begin the celebrations. The streets of London will be lined with jubilant spectators, and millions more will be tuning in around the globe.
1230
As the royal party approaches the palace, Fearne Cotton will be talking to some of the thousands of people who have staked their place around the iconic Queen Victoria Memorial. With noses pressed against the famous iron gates, they will be waiting for the curtains to twitch at the famous balcony window, heralding the appearance of the royal couple.
1300
Jake Humphrey gives live and exclusive commentary from on board the legendary Lancaster. The Lancaster is part of the Battle of Britain Memorial Flight that will be making its way to Buckingham Palace for the climax of the ceremonial events.
1330
William and Catherine step out on to the balcony in one of the most historic moments of our time. As the world calls out to the royal couple for the famous kiss, a colourful fly-past will swoop down the Mall and soar over Buckingham Palace in salute of the future king and queen.
Credits
| Role | Contributor |
| --- | --- |
| Presenter | Huw Edwards |
| Presenter | Sophie Raworth |
| Presenter | Fiona Bruce |