Main content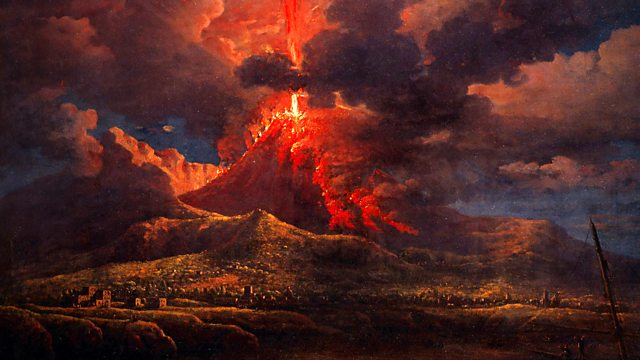 Emma Fielding reads the history of 'Vesuvius'. The volcano ensnares Bishop Berkeley, William Hamilton, Neapolitan nobility and the Grand Tourists of the eighteenth century.
Actress Emma Fielding reads Gillian Darley's 'Vesuvius, The Most Famous Volcano in the World'.
Dormant since 1944, but still a potential threat to the thousands who live at its foot, Vesuvius has produced its own literature, imagery and scientific insights. The philosopher and cleric, Bishop Berkeley visited the volcano in 1717 and was overwhelmed by its 'roaring and groaning'.
Fascinated by it, he climbed Vesuvius in the dead of night, taking a risk too far and having to run for his life. He was captivated by the psychological and aesthetic power of the volcano, as was William Hamilton, the British Ambassador in Naples from 1764. Smitten and obsessed, he dedicated himself to climbing the volcano and recording its terrifying moods. He frequently risked his life getting too close to the edge of its crater, and he and his trusted one-eyed guide, Bartolomeo Pumo (known as the Cyclops of Vesuvius), often had to run for their lives. Simultaneously Hamilton was carrying out his ambassadorial duties. These included entertaining the young Mozart, who performed at his house against a percussive accompaniment of volcanic activity.
After the death of Hamilton's wife, he married the notorious Emma, a voluptuous figure who was rarely drawn or painted without the outline of the volcano behind her. Emma Hamilton was to cuckold her husband, becoming Nelson's mistress, and bearing him a child, Horatia. Meanwhile the slopes of the volcano were starting to become the playground of smart Neapolitans, and other Europeans who had embarked on the Grand Tour. All were inclined to look on the prospect of volcanic activity as a bonus rather than a hazard.
Additional readings by Simon Tcherniak. Abridged by Olivia Seligman.
Producer: Olivia Seligman
A Loftus production for BBC Radio 4.
Last on
Broadcasts