Main content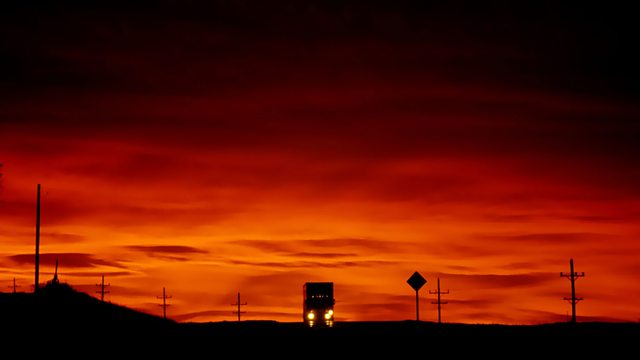 21/05/2011
Susan Sharpe presents Lars Vogt playing Janacek and Schubert at the 2010 BBC Proms, plus music by Norman, Wagner, Dobrzynski, Lassus, Sibelius, Bruckner, Weber, Beethoven, Ravel.
Susan Sharpe presents Lars Vogt playing Janacek and Schubert at the 2010 BBC Proms
1:01 AM
Janacek, Leos [1854-1928]
In the mists - 4 pieces for piano
Lars Vogt (piano)
1:15 AM
Schubert, Franz [1797-1828]
Sonata for piano (D.894) in G major
Lars Vogt (piano)
1:50 AM
Alfvén, Hugo (1872-1960)
Aftonen (evening)
Swedish Radio Choir, Eric Ericson (conductor)
1:55 AM
Mozart, Wolfgang Amadeus (1756-1791)
Symphony No.29 (K.201) in A major
The Amadeus Polish Radio Chamber Orchestra in Poznan; Agnieszka Duczmal (conductor)
2:23 AM
Sor, Fernando [1778-1839]
Introduction and variations on a theme from Mozart's Magic Flute (Op.9)
Ana Vidović (guitar)
2:33 AM
Mendelssohn, Felix (1809-1847)
Concerto for violin and orchestra in E minor (Op.64)
Isaac Stern (violin), Danish National Radio Symphony Orchestra, Nikolai Malko (conductor) (recorded on 18th October 1951)
3:01 AM
Brahms, Johannes [1833-1897]
Sextet for strings no. 2 (Op.36) in G major
Aronowitz Ensemble (ensemble)
3:42 AM
Palestrina, Giovanni Pierluigi da (c.1525-1594)
Agnus Dei - super ut-re-mi-fa-sol-la
Huelgas Ensemble; Paul van Nevel (director)
3:49 AM
Bach, Johann Sebastian (1685-1750)
Keyboard Concerto in F minor (BWV1056)
Angela Hewitt (piano), Norwegian Chamber Orchestra
4:00 AM
Warlock, Peter (1894-1930)
Serenade for Strings (1921-22)
Manitoba Chamber Orchestra, Roy Goodman (conductor)
4:07 AM
Bizet, Georges (1838-75)
Habanera (L'amour est un oiseau rebelle) - from Carmen
Jouko Harjanne (trumpet), Norwegian Radio Orchestra, Ari Rasilainen (conductor)
4:12 AM
Haydn, Joseph (1732-1809)
Symphony No.94 in G major, 'Surprise'
Bergen Philharmonic Orchestra, Philippe Entremont (conductor)
4:35 AM
Hummel, Johann Nepomuk (1778-1837)
Rondo in B minor (Op.109)
Stefan Lindgren (piano)
4:44 AM
Norman, Ludwig (1831-1885)
Andante Sostenuto
Swedish Radio Symphony Orchestra, Niklas Willén (conductor)
4:54 AM
Corelli, Arcangelo (1653-1713)
Sonata for trumpet, two violins & continuo in D major
Crispian Steele-Perkins (trumpet), The King's Consort, Robert King (director)
5:01 AM
Wagner, Richard (1813-1883)
Concert Prelude to Tristan und Isolde for piano
François-Frédéric Guy (piano)
5:12 AM
Corelli, Arcangelo (1653-1713)
Sonata da Chiesa in E minor (Op.1 No.2)
London Baroque
5:17 AM
Dobrzynski, Ignacy Feliks (1807-1867)
Andante and Rondo alla Polacca arranged for flute and orchestra
Henryk Blazej (flute); Polish Radio Symphony Orchestra (orchestra); Ryszard Dudek (conductor)
5:29 AM
Lassus, Orlando de (1532-94)
Susanna fayre
Emma Kirkby (soprano), The Rose Consort of Viols: John Bryan, Alison Crum, Sarah Groser, Roy Marks, Peter Wendland (viols)
5:32 AM
Sibelius, Jean (1865-1957)
Rakastava (Op.14)
Danish Radio Concert Orchestra, Hannu Koivula (conductor)
5:45 AM
Bruckner, Anton (1824-1896)
2 graduals for chorus
Danish National Radio Choir, Jesper Grove Jorgensen (conductor)
5:53 AM
Scarlatti, Alessandro (1660-1725)
Toccata per cembalo (in G minor/major)
Rinaldo Alessandrini (harpsichord, Franciscus Debbonis, Roma 1678)
6:01 AM
Weber, Carl Maria von (1786-1826)
Concerto for clarinet and orchestra No.2 in E flat major (Op.74)
Kari Kriikku (clarinet), Finnish Radio Symphony Orchestra, Sakari Oramo (conductor)
6:24 AM
Sweelinck, Jan Pieterszoon (1562-1621)
Psalm 99
Netherlands Chamber Choir, Peter Phillips (conductor)
6:28 AM
Beethoven, Ludwig van (1770-1827)
12 Variationen über das Menuet (WoO 68)
Theo Bruins (piano)
6:41 AM
Ravel, Maurice (1875-1937)
Valses nobles et sentimentales
Trondheim Symphony Orchestra, conductor Eivind Aadland.