Main content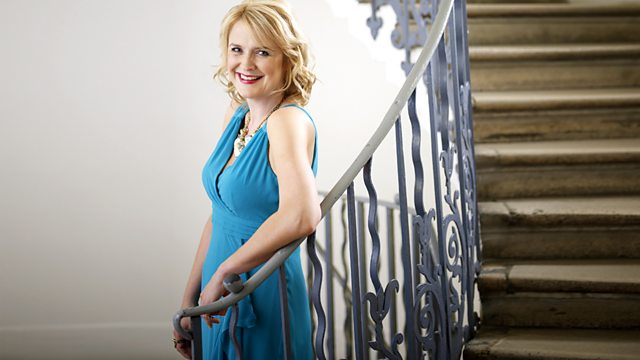 Thursday - Sarah Walker
With Sarah Walker. Tchaikovsky: Marche Slave. Ireland: Legend. Purcell: The Virtuous Wife. Francaix: Divertissement. Ravel: Pavane pour une infante defunte. Finzi: Cello Concerto.
With Sarah Walker. This week performances by the Scottish conductor Bryden Thomson and a tempestuous performance of Beethoven's Piano Sonata No.22 in F Op.54 by Nikolai Lugansky.
10:00
Tchaikovsky
Marche Slave Op.31
Halle Orchestra
John Barbirolli (conductor)
EMI CDM7639602
10:09
Artist of the Week
Ireland
Legend for Piano and Orchestra
Eric Parkin (piano)
London Philharmonic Orchestra
Bryden Thomson (conductor)
CHANDOS CHAN 8461
10:23
Purcell
The Virtuous Wife Z611 'Good Luck at Last'
The Academy of Ancient Music
Christopher Hogwood (conductor)
L'OISEAU LYRE 4258932
10:37
Francaix
Divertissement for Bassoon and String Quintet
Gaudier Ensemble
Hyperion CDA67036
10:47
Ravel
Pavane pour une infante defunte
Jean-Yves Thibadet (piano)
DECCA 4335152
10:54
The work in focus today is perhaps Gerald Finzi's greatest work, his Cello Concerto Op.31 played by Raphael Wallfisch and the Royal Scottish National Orchestra conducted by our Artist of the Week Bryden Thomson. At nearly 40 minutes long its a work of breadth and power, yet still contains much of the rhapsodic beauty that Finzi is known for in many of his other works. The Penguin Guide to Compact Discs sums up the recording well saying "Finzi's Cello Concerto is perhaps the most searching of all his works. Wallfisch finds all the dark eloquence of the central movement, and the performance overall has splendid impetus, with Thomson providing the most sympathetic backing.
Finzi
Cello Concerto Op.40
Raphael Wallfisch (cello)
Royal Liverpool Philharmonic Orchestra
Vernon Handley (conductor)
CHANDOS CHAN 9949
11:34
Mundy
Beatus et Sanctus; Adolescentulus sum ego
The Sixteen
Harry Christophers (conductor)
HELIOS CDH55086
11:43
Beethoven Piano Sonata Cycle
Sonata No.22 in F Op.54
Nikolai Lugansky (piano)
WARNER 2564623002.