Main content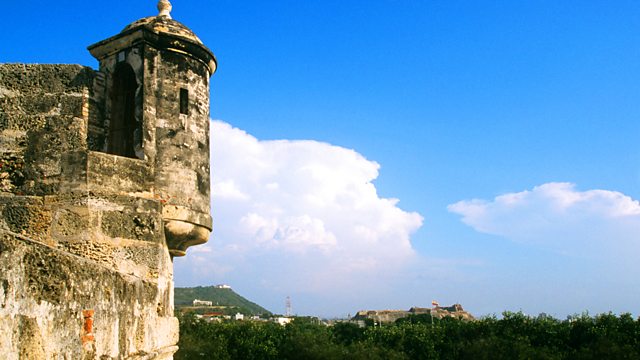 El Milagro! - The Miracle of Cartagena
Owen Sheers visits the once-troubled Colombian city of Cartagena - a place reborn through its own magnificent literary heritage.
Cartagena is a Colombian city reborn - rejuvenated after years of violent civil conflict and cocaine trafficking by its own magnificent literary heritage. Tourists have returned to the sultry shores, narrow cobbled streets and magnificent walled ramparts of this Caribbean colonial city, a place enshrined in the work of perhaps Latin America's greatest living author, Gabriel Garcia Marquez.
Poet and novelist Owen Sheers first visited Cartagena six years ago, for the inaugural Hay Festival Cartagena - a South American outpost of one of the UK's most eminent literature festivals. Now, the famous trundle of carts bearing tropical fruit across the old city's hot cobbles has been joined by the luggage of curious literary tourists, hoping to catch a glimpse of giants of the global and Latin American book world - not to mention feast on the sounds, sights, characters and locations that inspired Marquez's greatest works.
But Cartagena is also a city divided - split between the haves of the gilded old town and glitzy outer suburbs and the poor have-nots of its teeming barrios. Have the fruits of this literary phenomenon really benefitted the poor Colombians of the city's outskirts, or is it merely a diversion for its new, wealthy middle classes? And how much can a country be redeemed by its own literary heritage, when many have little access to books?
Featuring contributions from Germaine Greer, as well as Colombian novelist Jorge Franco and Festival Director Peter Florence - as well as music from Cuba's Buena Vista Social Club - Owen Sheers asks how much a thriving literary heritage can be transformed to practically change a society for the better. He speaks to students, charity bosses and authors and visits the barrios - as well as the haunts of the city's literati - to discover the successes and the limitations of Cartagena's literary renaissance.
First broadcast in May 2011.
Last on
Broadcasts