Main content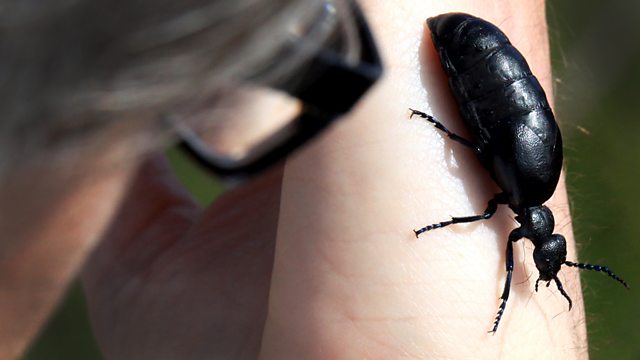 Oil Beetles
Devon is home to all four oil beetle species recorded in Britain. Paul Evans joins naturalist John Walters on an oil beetle hunt.
Devon is a beautiful area of the British Isles, an area of the West Country best known for its farmhouse cream teas, rather than a county able to produce its own oil. But it is oil that brings Paul Evans to south Devon where, for this weeks' Living World he meets naturalist John Walters. This oil though is part of a fascinating defence mechanism and life cycle of the subject of this weeks' programme, that of the oil beetle.
John has long been researching the ecology and life history of the four species of oil beetle found in Britain, the violet, black, short necked and rugged. By far the rarest species to be found in the country is the short necked oil beetle, a species that until 2007 was thought extinct in the United Kingdom. Can he and Paul possibly see all four species in a single day?
On a warm sunlit spring day, Paul and John begin their quest in oak woodland near Dartmoor, a wood carpeted with celandines, the favoured flower of the oil beetle. Soon they discover a male violet oil beetle and its associated cloud of minute flies, an indicator of the remarkable life cycle of these little understood beetles. Close by a huge egg bearing female absorbs the suns rays on her jet black jewel-like body. From here the pair head off to an unimproved wet meadow where John has been studying the flight patterns of this wingless insect, using solitary mining bees to hitch a ride and in return parasitize the eggs of the unfortunate aerial host, once in its burrow.
Paul and John leave this area near Dartmoor to travel south to the coast. With sunlight shimmering off the sea, the first migrant swallows making landfall overhead, the rugged oil beetle proves elusive; but there, under a single gorse bush, the rare short necked oil beetle delights these beetle hunters.
Last on