Main content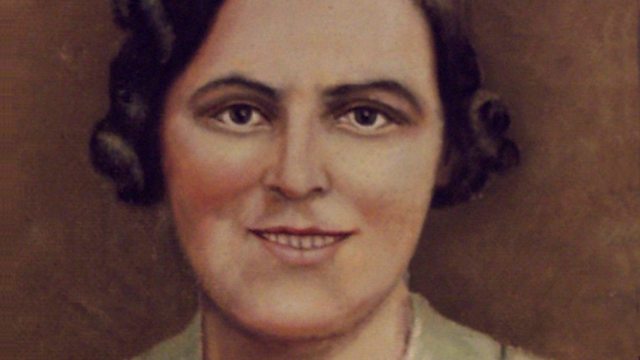 A History of the World Special
Peter Lewis tells the story of the object he added to the BBC History of the World website, a sweetheart's portrait painted for his Uncle Bryn at the Auschwitz concentration camp.
When Peter Lewis heard that the BBC were inviting people to nominate personal objects that helped tell the story of the history of the world, he thought immediately of his Uncle Bryn.
The invitation was intended to complement the award-winning Radio 4 series 'A History of the World in A Hundred Objects', made in partnership with the British Museum. Those objects told of mankind's origins, of dynasties, of trade and economics, of science and engineering, war, peace, growth and development.
The many thousands of contributions to the BBC website threw vivid personal light on those broader subjects, but perhaps none more than Bryn's portrait of his World War Two sweetheart, and later wife, Peggy.
The picture, which still hangs in his living room, was painted in oils from a Red Cross postcard photograph that Peggy had sent him when he was a prisoner of war in Poland. He'd been captured in April 1940 and, in spite of twelve unsuccessful escape attempts, he wouldn't see Peggy again until 1945.
His life as a prisoner is an extraordinary story of a private soldier gifted with an iron will, a wicked optimism and an unshakeable survival instinct.
Many of the camps in which he was held are familiar to historians: Thorn, Stalag VIIb Lamsdorf, Terezin - but it's Auschwitz that leaps most agressively from the page.
Bryn was never held with the Jewish prisoners in the main camp. As a British soldier, he had rights they could only have dreamt of. But he was a labourer in the metal workshops alongside the main camp, and he saw the brutality meted out over the several months of his incarceration there.
It was during this period that a fellow worker, a Polish Jew, told him that he could get the tired photograph of Peggy painted for him in oils.
Bryn was uneasy about losing such a treasured possession - but when he learnt about the Nazi policy of employing Jewish craftsmen and artists to copy stolen art treasures in the camp next door, he relented.
A couple of weeks later, his postcard photo was returned, along with a beautiful portrait of Peggy. For obvious reasons, it was unsigned.
So Bryn would never discover the name of the person who painted it, but he treasured it beyond any other possession and kept it taped to his stomach or back for the remaining two years of the war.
Bryn is now in his nineties. He's always been reticent about telling the stories of his imprisonment, but here he talks to Peter Lewis about his survival, his escapes, and the portrait from Auschwitz that he brought home safely to the woman who was to become his wife.
PRODUCER: Tom Alban.
Last on
Broadcasts