Main content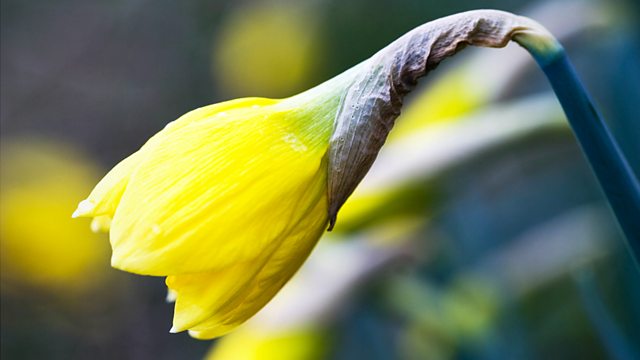 Dymock Daffodils
Paul Evans follows the Poet's Path into the heart of wild daffodil country as he celebrates spring in the Dymock Woods in Gloucestershire, home to the Dymock Poets in WWI.
Writer and naturalist Paul Evans visits the famous daffodils of Dymock. This corner of north Gloucestershire is home to some of the very best wild daffodil spectacles in the British Isles, plants whose pale primrose flowers with egg-yolk trumpets spill over motorway verges, infiltrate hedgerows and crowd into copses for a few precious weeks in late March and early April. The area is also famous for hosting a remarkable collection of poets just before the First World War, lured there by the idea of a rural idyll . Among them were Edward Thomas, who was killed in action, and the visiting American poet Robert Frost, whose verse, "The Road Not Taken " includes the well-known line "two roads diverged in a yellow wood". Was this perhaps a reference to the tides of Dymock daffodils?
Paul finds out from his guides Roy Palmer, folklorist and chairman of the Dymock Poets Society, and botanist Ray Woods, who reveals the resilience and also the vulnerability of this surprising flower, which is showing promise as a relief for dementia. Blending literature, history and wildlife, Living World takes the poets' path into the heart of wild daffodil country in this unique corner of England and revels in the coming of spring.
Last on