Main content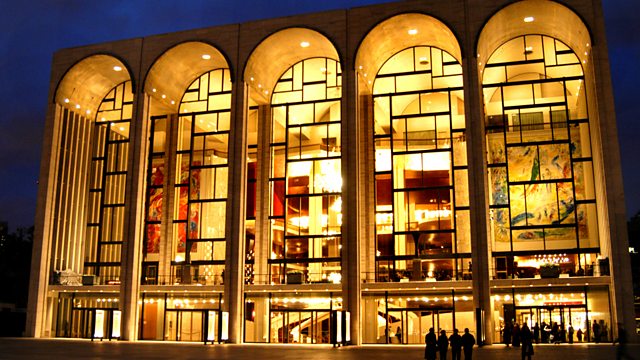 Strauss's Ariadne auf Naxos
From New York's Metropolitan Opera, a performance of Strauss's Ariadne auf Naxos, with Violeta Urmana as Ariadne. Presented by Margaret Juntwait and Ira Siff.
Strauss's Ariadne auf Naxos
Live from the New York Metropolitan Opera
In the grand house of an 18th century nobleman preparations are underway for the performance of a serious new opera, Ariadne auf Naxos, to be followed by an Italian comic opera. But due to a mix up with the timings, the performers are told that both operas are going to have to be performed at the same time. The composer will have to cut his opera, and the troupe of comedians will be let loose on the opera seria, trying to cheer Ariadne up with singing, dancing and advice about love.
Presented by Margaret Juntwait and Ira Siff.
Ariadne ..... Violeta Urmana (soprano)
The Composer ..... Joyce DiDonato (mezzo-soprano)
Zerbinetta ..... Kathleen Kim (soprano)
Harlequin ..... Vasili Ladyuk (baritone)
Scaramuccio ..... Mark Schowalter (tenor)
Truffaldino ..... Joshua Bloom (bass)
Brighella ..... Paul Appleby (tenor)
The Music Master ..... Thomas Allen (baritone)
Bacchus ..... Robert Dean Smith (tenor)
The Dancing Master ..... Tony Stevenson (tenor)
A Wigmaker ..... David Crawford (baritone)
A Footman ..... James Courtney (bass)
An Officer ..... Noah Baetge (tenor)
The Major-Domo ..... Michael Devlin (spoken role)
Metropolitan Opera Chorus
Conductor ..... Fabio Luisi.